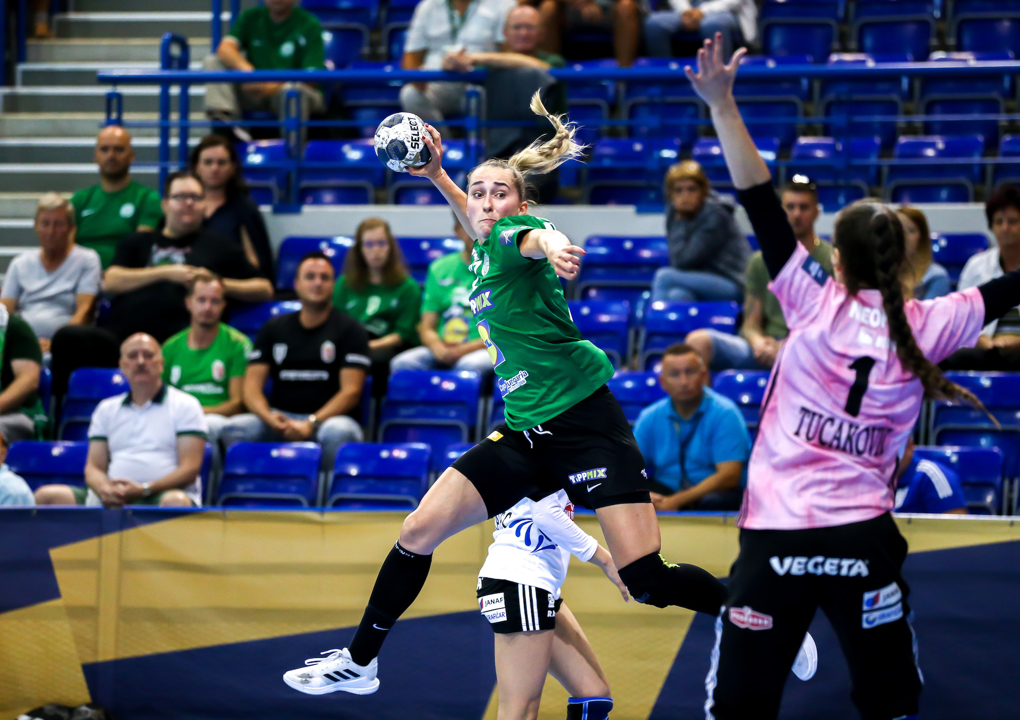 Márton: Every particle of me is about handball
Gréta Márton, the flying left wing who easily outpaces opponents, has only just turned 22 but has already won one of the toughest national championships — the Hungarian league last season — not to mention made her debut at the Olympic Games. She was also Junior world champion in 2018.
For Márton, who was born in 1999 in the countryside of Hungary, pursuing sport was a simple choice, as she is from a sporting family. While her father used to play football, her mother showed her talent in handball. Márton started with both sports, but eventually had to decide on one.
"Football seemed tougher when I was younger. Since then, I experienced how hard handball can be, but I never regretted my decision," says Márton. "I could and still can be with my friends when playing handball and that is what matters to me the most. In the darker moments, the company kept me in.
"The speed, the hustle of handball makes it even more enjoyable. But the chemistry in the squad is the most important to me. As of this moment, I would not change this feeling for anything. Thankfully, I got a lot of positive feedback and my parents were always with me to help my process, which helped me a lot to keep on track."

A little later I was sent to the senior team to practice and play with them. This was the turning point in my head. I understood that I have to sacrifice some parts of my life for better results and successes.
In Hungary, when youth players name their idol or hero in handball, they usually say Anita Görbicz or László Nagy. Yet Márton names someone else, not even from the country: The multiple Olympic, world and European champion Luc Abalo's agility and technical repertoire amazed her. She watched many videos of the Frenchman and learned from those how to fall. One of her dreams came true when the two met in Tokyo at the Olympic Village.
"We had a quick chit-chat about the city, the event itself and of course handball, as we were hosted in the same building," recalls Márton. "He has such a great personality and was very interested in our experiences with the games."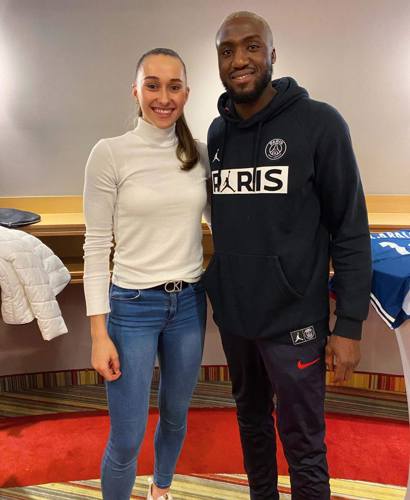 Although the wing learned step-by-step, by the age of 14, she felt stuck on the court and lost motivation.
"To be honest, I even protested not to be handball player. I wanted other impulses besides handball. I saw how my friends lived their life, what they were allowed to do," says Márton.
"Then, a little later I was sent to the senior team to practice and play with them. This was the turning point in my head. I understood that I have to sacrifice some parts of my life for better results and successes. After that, I was very focused and my friends accepted my lifestyle easier — that almost every minute of my days is scheduled. Travelling, training, games, school…these were and are still my duties, but I love to spend time with my family as well."
The upcoming season can bring unknown challenges. Still, our point is to prove we are among the top four European sides.
Márton was only 15 when she hit the court for the first time with an open team: FTC. Left wing Orsolya Vérten and Zita Szucsánszki, who is still with FTC, helped Márton a lot at that time. Márton was the smallest, but her speed and eagerness to learn stood out.
"I remember the first few occasions when I met and played with Zita. She did not know that one of my tasks for homework had been about her as a person I look up. I felt uptight every time we talked. Then, I showed her my little piece that I wrote back in primary school. I read many articles and watched plenty of videos of her and it was very detailed. Luckily, she liked it and we instantly became good friends," says Márton.
Since then, aside from half a season that she spent at another Hungarian club, MTK Budapest, Márton has been with FTC. Her loyalty does not only come from appreciation of the many years with the club, but the great atmosphere and goals.
"Ferencváros means my whole life. I started here and it is home for me. Sometimes when I come for practice or a game I think that I come from home to my second home. I might be the only one who loves to come practices anytime. We get many supporters and can play for trophies. The chemistry is insane in a positive way. Obviously, the upcoming season can bring unknown challenges. Still, our point is to prove we are among the top four European sides."
FTC's next challenge in the DELO EHF Champions League will be the Match of the Week against Team Esbjerg, throwing off on Saturday at 16:00 CEST. The game will be streamed live on EHFTV.

A 22-year-old athlete often has many dreams, however, Márton still plays for the joy and not specifically for trophies — but she ultimately wants to win everything. On the other hand, Márton is realistic and knows what success needs.
The DELO EHF FINAL4 is always FTC's target and the 2020/21 season created a strong base for the Hungarian side ahead of 2021/22. The club won the domestic championship and several of their players qualified for the Olympic Games and attended it, which was one of Márton's biggest dreams. Her dreams are developing and, after 2020, include staying stable both mentally and physically, as well as always being herself.
"2020 was incredibly harsh on all of us in the team. I struggled as well. I felt low during the first wave of the pandemic, then I had knee surgery, which forced me to skip the preparation in the summer. I joined in September but I was not ready — neither my body nor my mind were fit. Then, as the rest of the squad, I got Covid-19, so I was really deep down," says Márton.
"I felt a little bit of hopeless, then something changed: I cannot describe what happened, but the next day I woke up with new energy and that helped me out. The rest is history."
Off the court, Márton attends handball coaching classes at the University of Physical Education. Márton highlights that her studies help her to analyse and overcome on and off the court issues, not to mention the many familiar faces from the handball community.
"Every particle of mine is about handball and I want to learn every little detail. Nevertheless, I see myself as a coach, but only with underage teams for now."
There is always room for improvement, which is a great motivation for the left wing. This desire and the fact that others believed in her more than she did helped Márton to be where she is today.
"If somebody told me at the age of 14 that I will be an Olympian at 22, it would have shocked me. I wanted to quit, so my response would have been a laugh. But it only shows me that I made the right decision, stayed on my path and with enough I will reach the unimaginable," concludes Márton.