The favourites shine to close round 8
The group phase of the EHF Champions League Men 2021/22 entered its second half this week with round 8, including Wednesday's highlight Match of the Week where Aalborg Håndbold defeated THW Kiel 35:33.  
22:58 
We will leave you with a full overview of the results from round 8, and we await you once again for round 9 next week when we see more heavyweights clash and PSG Handball host Kielce in a hugely important Match of the Week on Thursday, 2 December at 20:45 (CET). 



















22:15
RESULT: Vardar 27:30 Szeged
The opening minutes of this game set the tone with Vardar not netting from the second minute until the 16th, during which there were multiple two-minute suspensions handed out. It was a scrappy outing but the second half was a big improvement for the hosts with Filip Taleski having one of his better outings wearing the red and black. Szeged's Mario Sostaric was top scorer of the day with his 7/8. Szeged now move back to second spot in group A just one point behind Kielce. Szeged travel to Aalborg for a tricky tie before they host Kiel in a huge evening for the club in round 10 when they move into their new stadium.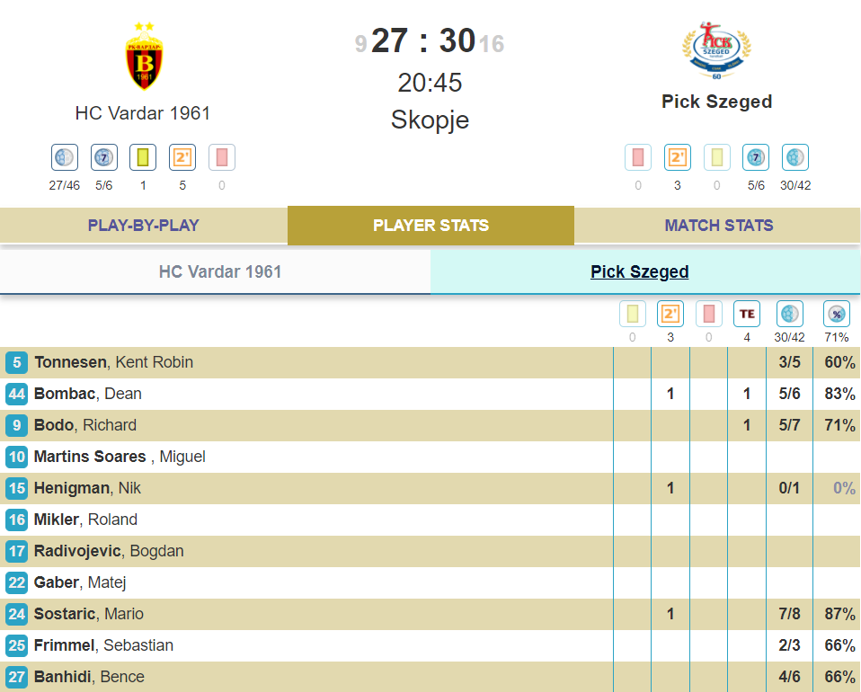 22:12
RESULT: FC Porto 30:39 PSG Handball
A result that was never really under threat despite Porto's much improved second half. The backcourt-line axis was on full display as PSG tore apart Porto for large parts of this match. Kamil Syprzak had a big evening with the Polish international finding himself on the end of some really nicely worked backcourt play. Porto had no answer for this over the two games and now French side are level on points with Barca.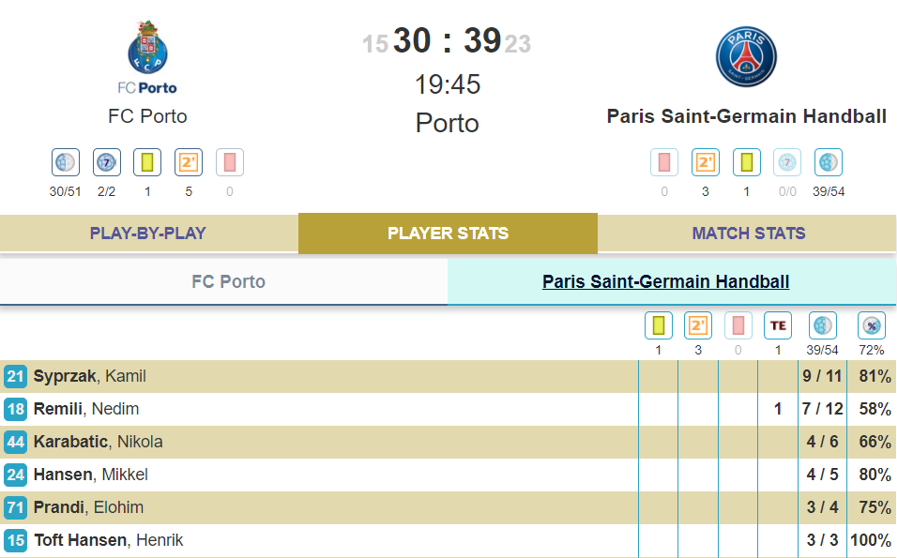 22:02
Huge save from Tomovski and a lovely resulting fast break! Vardar are on a bit of a rally in the second half! Just four goals in it now!
21:57
Time-out Porto. Oh that hurts! Just as things were starting to click and the goals were flowing, they turn the ball over in attack three times in a row and gift PSG three easy goals. 33:24 to PSG.
21:54
Pedro Cruz with two rockets in a row for Porto! And we are back to a seven-goal game. A much improved Porto side so far. Attack looking a lot more streamlined and defence looking lively. Still a big mountain to climb...
21:33
PSG is one of the few handball clubs that make adjusts at half-time with the help of a video session held in the dressing room. L'Equipe wrote an interesting article just about this (in French). Just click on the photo below for a direct link! 
I somehow think this video session will be a smooth one with the handsome lead the visitors have...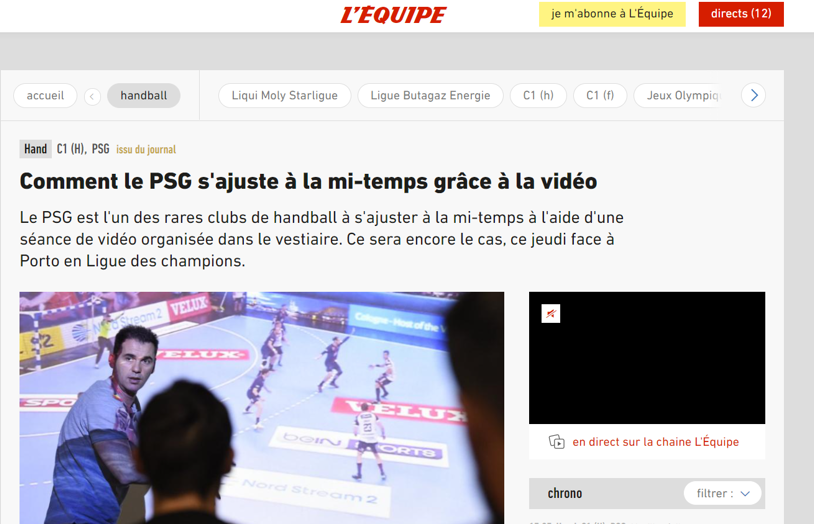 21:25
HALF-TIME:

HC Vardar 9:16 Pick Szeged
FC Porto 15:23 PSG
21:15
24 minutes of handball played and we are stuck at Vardar 6:10, a game of the defence specialists out there. Roland Mikler of Szeged is boasting a 45% save rate so far after his five saves from 11 shots. Far from free-flowing handball, I think both coaches will be happy to get their sides into the dressing room and attempt to fix the static attacking funk that both sides are facing. 
21:07
Before the game between Vardar & Szeged Timur Dibirov was presented with a jersey to celebrate him reaching 1,000 EHF Champions League goals! He hit the milestone in the last round in the first "leg" against Szeged. He joins the ranks of Kiril Lazarov and Nikola Karabatic who have both netted +1k goals.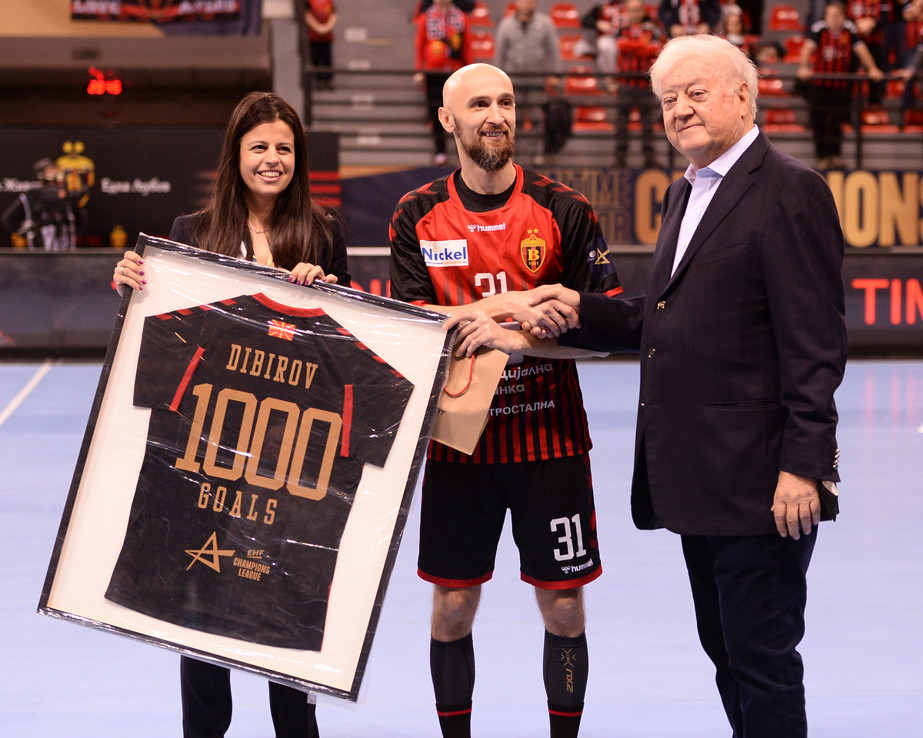 21:03
Over at Porto vs PSG we see two sides dealing with two very different workloads. PSG in attack with a few passes and driving one vs one can open up space in the Porto defence while at the other end Porto have to work very hard to get any type of gaps open up - all of this is showing on the scoreboard with the visitors PSG leading 14:8. 
20:54
Super low-scoring opening between Vardar and Szeged. Szeged for sure look more assured but a super aggressive defence is a thorn in their side at the moment. Both sides are nursing poor shooting percentages with Alix Nyokas of Vardar being the biggest offender being 0/3. 
20:45 
Two really important ties with a win for Szeged meaning they will jump back up to second spot just one point behind group leaders Kielce. 

PSG can also leapfrog Veszprém with a win tonight and go level on points with second spot Barca.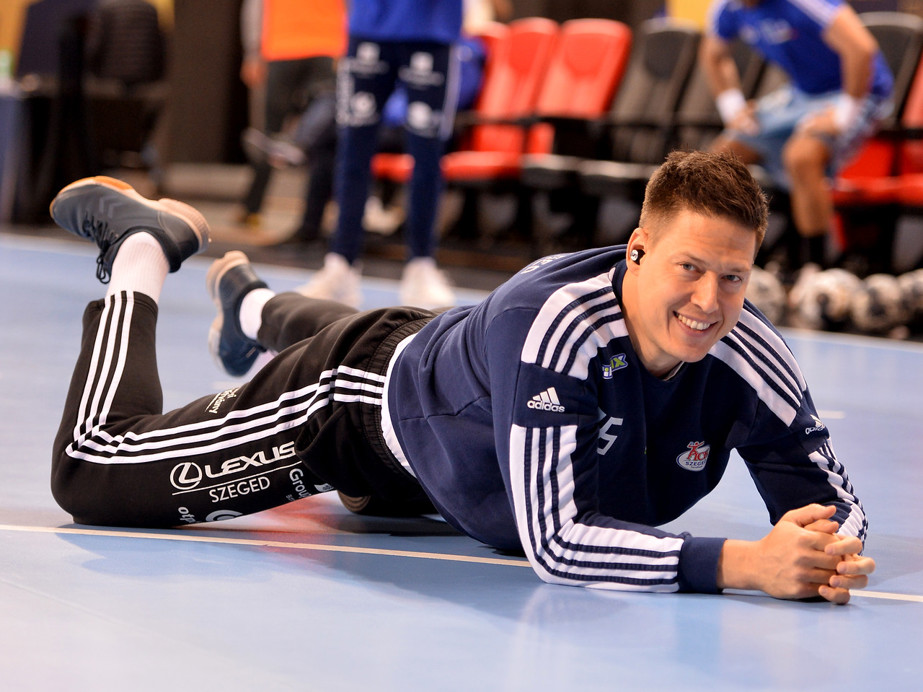 20:31
Now onto the next round of matches at 20:45 (CET) both live on EHFTV: 
HC Vardar vs Pick Szeged
FC Porto vs PSG
20:17
RESULTS:
Dinamo Bucuresti 20:28 SG Flensburg-Handewitt
Veszprém 36:29 HC Motor
20:12
Even with the absence of head coach Maik Machulla (who has been doing technical meetings online with the squad all week), they have figured out this Dinamo defence in the second half. Some late shiners like Golla and Einarsson helped turn the screw!

But the biggest influence was Benjamin Buric with his epic 17(!) saves, take a bow!
20:06
Really frustrating half for Dinamo having missed eight shots in a row and going from 15:15 to 15:21. SG have found their form and Einarsson just scored a lovely underarm shot to make it 24:18 to SG. 
20:00
What a BEAUTIFUL finish! My goodness!
19:54
SG looking good so far in the second half. Poor shooting and decision making has cost Dinamo, and some good saves by Buric (37%, 9 saves). Raul Nantes of Dinamo will be kicking himself having missed some clear-cut chances. SG's Mensing, Jakobsen and Mensah Larsen have been getting into the swing of things having netted all seven goals so far! 20:15 to SG.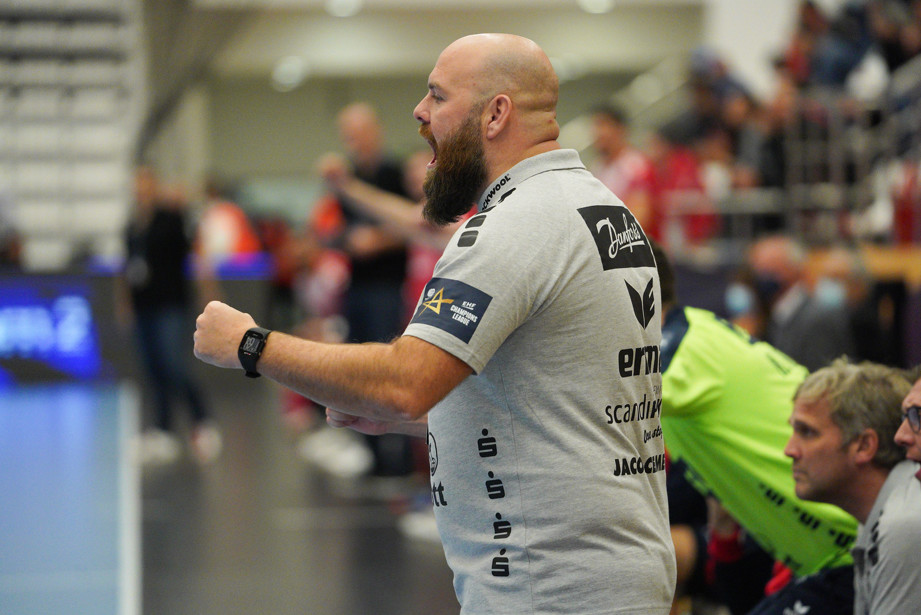 19:23
HALF-TIME:
Dinamo Bucuresti 13:13 SG Flensburg-Handewitt
Veszprém 18:13 HC Motor
19:12 
From an SG perspective, you would think that so far this really isn't going to plan. They have a mere 10-man squad and huge names like Gottfridsson and Hald missing who play a massive amount of minutes. A close game early doors isn't ideal as when the game wears on the 10 men could be looking very tired. As it stands it is a 50/50 tie. Mensah Larsen is shooting very wildly at times he is 3/7 and cost SG a few times already and normally "hotshot" Mensing isn't much better at 3/6. 
19:08
I dunno what Dinamo's Nantes was thinking there. Taking a shot off no set-up and no real movement and two massive blocks standing in his way. There are glimpses of this Dinamo side showing their inexperience and that blocked shot was one of them. You can't afford to gift SG a fast break like that. 10:9 to Dinamo.
19:05
Big save by SG's Buric! Dinamo won a penalty for SG were defending inside. Up steps Marian Ghionea who hasn't put a foot wrong so far and misses the chance to put the hosts two goals up! 9:8. 
18:56
Only one goal in it after 10 minutes and as Kevin Møller  warned SG fans last week "The Romanian champions are 25 per cent stronger at home than away." And we are seeing that first hand now. Romanian international winger Marian Ghionea is on fire having taken all his chances, he is 4/4. And we are tied at 7:7.  
18:53
We are five minutes into the game between Dinamo Bucuresti vs SG Flensburg-Handewitt and you may have noticed the absence of some SG names. Five players tested positive for Covid-19 two of which were head coach Maik Machulla and his assistant coach Mark Bult. 

Now on the bench is SG legend Holger Glandorf and next to him sits the junior coordinator Michael Jacobsen, who also works in men's handball with the junior team.
18:41
We are ready to rock in Romania and in Hungary so get yourself over to EHFTV.com now and catch one or both games by using the multiscreen feature!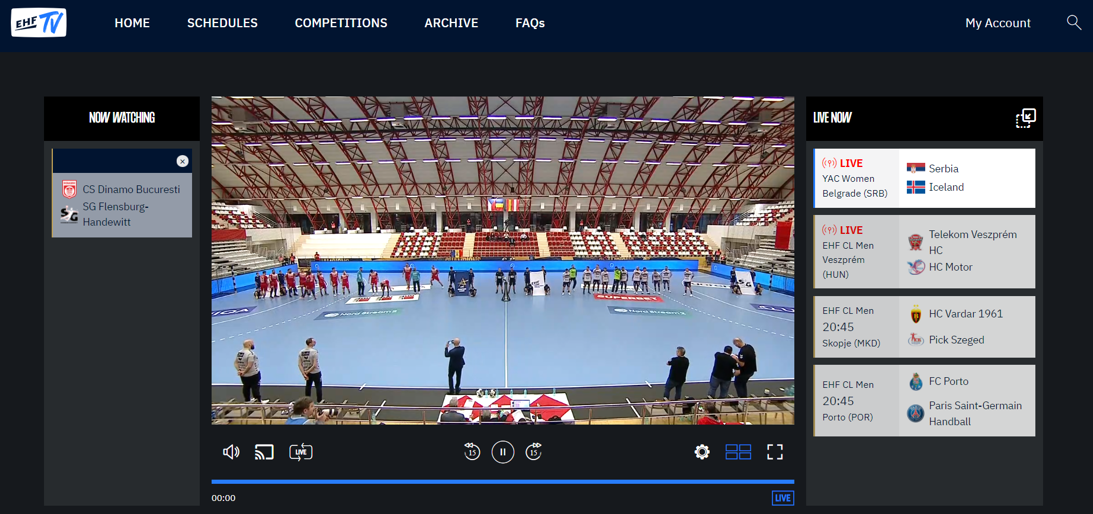 18:20
Huge respect from Xavi Pascual towards SG Flensburg, and Pascual will very clearly remember that EHF FINAL4 appearance in 2014 when his old club Barca were knocked out after a surprise penalty shoot-out loss to SG with the young Hampus Wanne scoring the winner. 
We have a lot of respect for Flensburg. They played very well last week and for me, it is one of the best teams in the EHF Champions League. They play amazing handball and it is a pleasure to watch them. Tomorrow, if we want to win, we have to leave one hundred per cent on the court and in this situation, we will have chances. But it's not easy to play against them because Flensburg could be one of the teams that could play in Cologne.
18:12
With just over 30 minutes to go until the first two matches of the evening:
18:45 CET Dinamo Bucuresti vs SG Flensburg-Handewitt
18:45 CET Veszprém vs HC Motor

For the blog we will focus on the Dianamo vs Flensburg tie with keeping a close eye on Veszprém vs Motor.

16:45
Another fiery clash on the schedule for tonight sees Dinamo hosting Flensburg, after the German team won the reverse fixture 37:30 last round. 
The victory in round 7 was Flensburg's second of the season, and they are in a much better position in group B as a result. Ahead of the game in Romania, Flensburg sit sixth with five points, but are only four points behind second-ranked Barça, with each position above the German team separated in one-point increments. 
Dinamo have also taken two wins in 2021/22 — but they were against two of the toughest teams in the group: leaders Kielce, who have won all matches except the round 1 clash against Bucharest, and third-placed Veszprém. Those victories highlight the danger of Dinamo when they are at their best, so Flensburg can certainly not take the away match lightly. 
Another point in Dinamo's favour is that the Romanian team have lost only four home games in European competitions since 2018. 
15:27
Tonight, Szeged will meet Vardar in Skopje in the well-known cauldron that is Jane Sandanski. Szeged are looking for their fifth win of the season from their current spot in fourth on the group A table, while Vardar enter the game in sixth position. 
Last week, the Hungarian side farewelled their own iconic arena, 'Spori', as they will move to the newly constructed Pick Arena. One of the venues for the upcoming Men's EHF EURO 2022, for which fans can buy 20 per cent discounted tickets on Black Friday, Pick Arena was built specifically for the EHF's flagship national team event in January and will also become a temple of the EHF Champions League as Szeged's new home. 
Szeged will play their first game in Pick Arena on December 9 against THW Kiel. We took a look at Pick's history in 'Spori' in a special feature you can read here.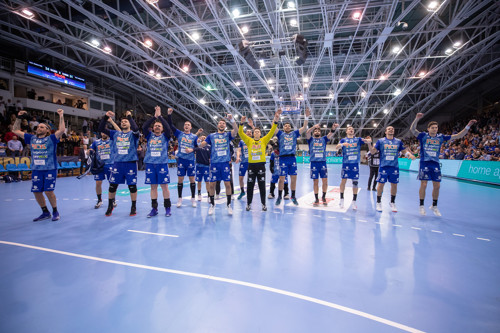 15:10
We are back for the second day of round 8 action in the EHF Champions League Men, with four games set to wrap up the round tonight: 
18:45 CET Dinamo Bucuresti vs SG Flensburg-Handewitt
18:45 CET Veszprém vs HC Motor
20:45 CET HC Vardar vs Pick Szeged
20:45 CET FC Porto vs PSG 

Wednesday 24 November
23:30
Here ends our coverage of the first four matches of round 8. I am sure you enjoyed them as much as we did, so make sure to join us again here for the last four games on Thursday.
If you want to go through all what happened tonight once more, here are the match reviews:
23:10
So, let's hear from winning head coach Ivica Obrvan, after his Zagreb ended a 641-day wait for an EHF Champions League win, against Meshkov Brest tonight: 
It really wasn't easy to play with all this weight on our shoulders. I feel like we were not playing as well as last week but we managed to deliver a splendid defensive performance later in the second half which helped us secure this win. This means a lot but we have to keep up the good work, keep on pushing. We haven't done anything yet.














They have done it, and they have done it in style! Zagreb fi-nal-ly find the way back to winning, after 23 matches and 641 days (since February 2020) where they failed to take the two points. Tonight they defeat Meshkov Brest by a convincing margin of seven goals.
Another week, similar result: after their 37:30 win in Norway in round 7, Montpellier beat Elverum again by seven goals tonight: 39:32. Hugo Descat has run a bit quiet in the second half but finishes the match on a great tally of 11.
22:09
This one didn't go in - in the first half - but meanwhile Zagreb look like closing in on their first win in 23 matches, leading Brest by four with only a handful minutes left to play...
21:56
Lovely from Lenne:

Zagreb have been ahead by up to four goals (9:5) but it is all level at the break - just like the final result last week. Who is going to take that first victory - if anyone at all?
Hugo Descat, netting eight times, has been on fire in the first half as Montpellier go three up over Elverum at the break.
21:02
And talking about group A, that is where Zagreb are trying to finally win an EHF Champions League match again. Remember, they haven't done so for their last 23 (!) matches, but are now enjoying an early lead against Brest...
.. who are without Ivan Pesic. The goalkeeper has earlier today signed for German side Stuttgart with immediate effect and is set to join Nantes next season.

20:57
That win in MOTW has brought back Aalborg into the battle for the top-two spots of group A again; they are now just one point behind Kiel. And the big man tonight was Nikolaj Laesø - with a stunning nine goals!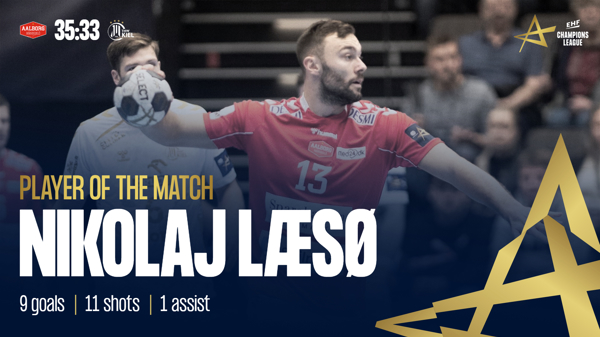 20:42
It was always going to be an exciting start to round 8, and oh yes, it was! No time to breathe as we are heading into our second set of matches right away, both from group A:
Zagreb vs Brest
Montpellier vs Elverum













20:32
Let hear from the players after Aalborg defeated Kiel in the MOTW:
It was a hard game but we did it very good. I think, the defence was the best. Because we fought very hard and that is very good.
We had a lot of tempo in the game but in the end we were not good enough in the defence. If you get 35 goals then it is hard to win a game.
They have done it! No better occasion than MOTW to get your first ever win over Kiel, and Aalborg have done just that tonight. Without star player Aron Palmarsson, but with a lot of willpower, sheer class, and a touch of luck every now and then they hold on to their half-time lead.
What a late comeback from Kielce! They trailed for most of the match, but never gave in, and ended up handing the defending champions Barça a second straight defeat. Just W-O-W!!!
20:10
Team timeout Kielce: The hosts get back to just one behind (27:26) against Barça... this is far from over.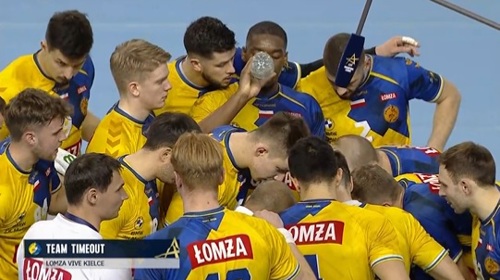 20:06
Meanwhile in Poland, we see this terrific Tunisian entry:

19:59
Aalborg now four goals up on Kiel: 30:26. And only 11 minutes on the clock...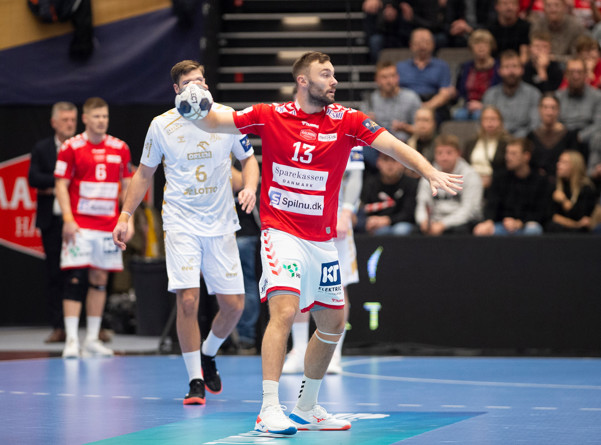 19:56
Scoring goals like this one, who can stop Aalborg this MOTW?! 
19:44
Aalborg doing well to keep their nose in front in the opening exchanges of the second half of MOTW against Kiel. Remember, Aalborg have never beaten Kiel in seven previous matches in European club competitions; actually, they only get one draw back in 2004 but lost the other six.
Can tonight be the night they turn the tide?


Here is what EHF journalist Björn Pazen says about the first 30 minutes:
"After Kiel was dominant in the first 45 minutes last week, the first half of the reverse fixture was more or less equal - proved by the half-time score of 17:16. Both sides have a clear focus on attack, while both goalkeepers did not have that much impact they had hoped for. The lead changed four times only until 10:10 - and no team managed to pull ahead before Aalborg's intermediate treble strike for the 16:13.
And both sides showed their variety in attack - it were not two, three players, who took the responsibility, but Aalborg and Kiel each have eight players on the scorers list at the break. While the hosts relied on the full fire power of their back court players, such as Sandell, Christensen and Claar, Kiel benefited from their mastermind Miha Zarabec, either for goals or assists.
Also, the audience was a factor for Aalborg: They are impressively boosted by their fans in the fully packed red and white arena, and even some spectators took the way from Northern Germany to Northern Denmark."

An intense match in Poland, with the visitors from Spain leading by two. Aitor Arino with five and Alex Dujshebaev with four the best scorers so far.
19:14
No clear gap but Claar scores:
19:11
Team timeout Aalborg: Stefan Madsen gathers his men for additional instructions. So far, so good for Aalborg in MOTW against Kiel! 

19:07
Over in Poland, Barça quickly went three up (6:3) but the teams are back to (almost) level again after 20 minutes, with Kielce now one goal down (10:9).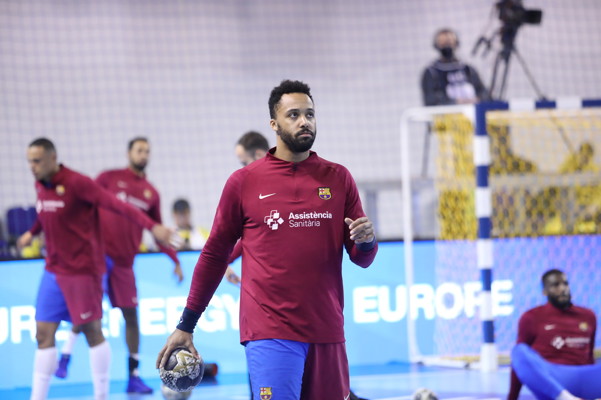 19:04
Tight start in our MOTW as Aalborg and Kiel remain very much in the balance for the first quarter-and-a-bit.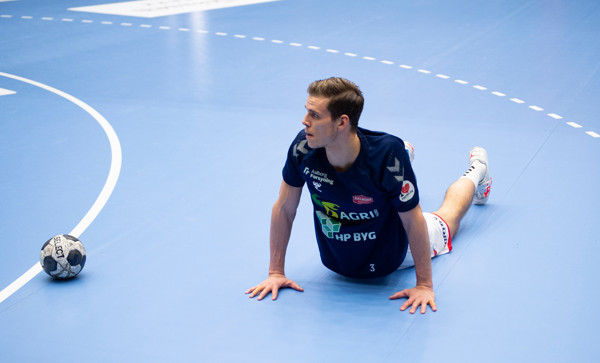 18:47
We are off and running in Aalborg and in Kielce. Remember you can watch both games live on EHTV side-by-side on the same screen: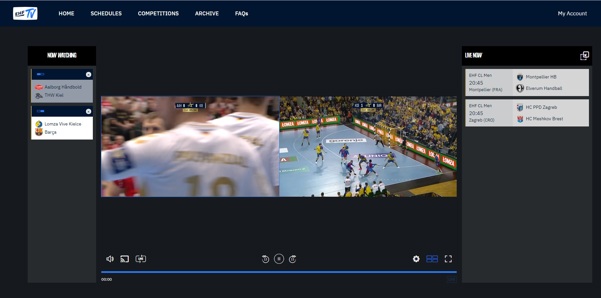 18:41
The Kiel fans are getting ready for their Zebras' match in Aalborg...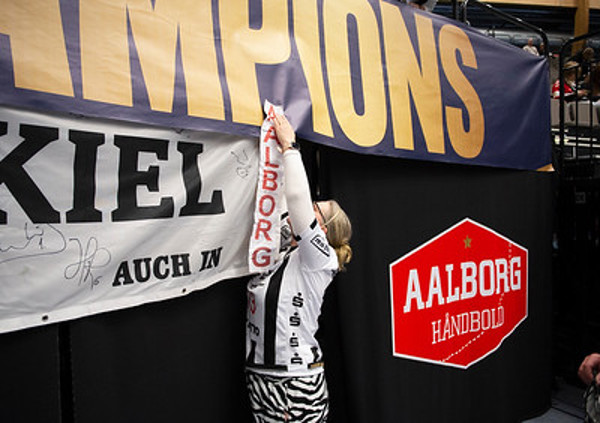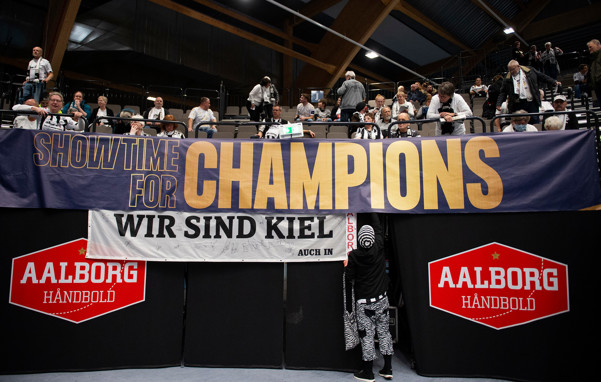 18:33
Kiel are calling their visit to Aalborg a "Spitzenspiel" on the club's Twitter account. Don't think I have to translate that for you...
18:27
Are you so grateful for EHFTV's multiscreen option as well? At least we don't have to choose between Kielce vs Barça and that other game starting at 18:45 CET: MOTW Aalborg vs Kiel!
It is another clash between the 2021 finalists and the 2020 winners. Kiel came out on top last week, but even though it is only a minor trip to Aalborg, it will be different match today in Denmark.
Marcus Floth spoke to Aalborg's Henrik Møllgaard and Kiel's Magnus Landin at the Dinner for Two - powered by Gorenje. In case you missed, you can still enjoy the talk on our official ehfcl Instagram account: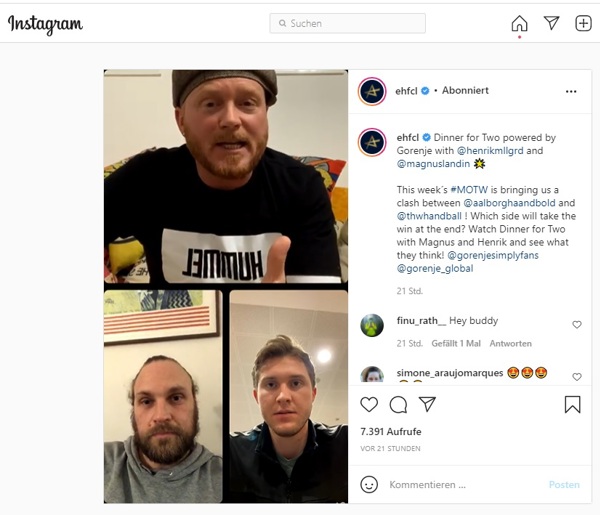 18:15
So, among the two matches starting in half an hour is Kielce vs Barça. That would have always been a match to keep an eye, what do I say: both eyes, on of course, but even more so since what happened last week. Kielce became the first team to beat Barça in their very own Palau Blaugrana since November 2015.
So Barça will be red hot to hit back tonight in Poland... but Kielce are on a six-match winning streak and haven't dropped a point at home so far this season.
Fasten your seatbelts for this one!
18:06
What a night do we have in prospect! Before we go through the schedule match-by-match, see here what is coming up over the next few hours:
And here is the full round 8 schedule: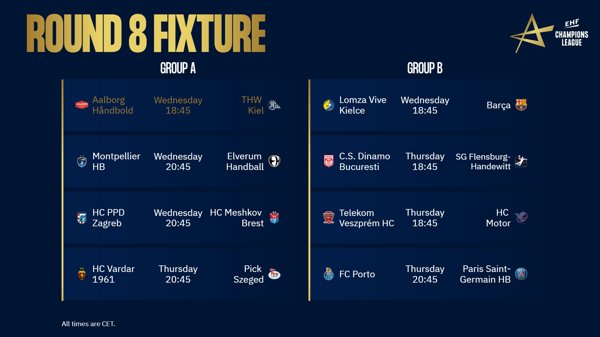 18:00
Good evening, and welcome to another two nights of EHF Champions League Men 2021/22 fun!
We are entering round 8 tonight, and that means we are halfway through the group phase schedule. In other words: we have seen this week's matches as reverse fixtures before. More precise: we are going to see the same matches as last week, but the home teams are now the visitors.
As always, start with our round preview to get yourself up to date: