EHF Champions League
SUMMARY: Veszprem take MOTW; Elverum shock Szeged
The EHF Champions League Men 2021/22 returned from a one-week break with eight matches having gone down on Wednesday and Thursday. 
This summary provided running updates on all eight matches.
THURSDAY
23:27
What a round of action! No more unbeaten teams in the competition with Elverum having shocked everyone by beating Szeged. Some seriously promising young players coming through the ranks in Elverum. MOTW delivered in terms of atmosphere but maybe came up short in terms of tension but you cannot take anything away from Veszprem's game plan they nailed it from start to finish. Emotions were also running high in Barca with the return of their ex-coach Xavi Pascual. And PSG picked up a win over a tough Motor side. Read match reviews of these ties just below. 

We will see you in the next round when it is once again showtime for champions! 

















I want to congratulate Motor for their very good start this season. We made some mistakes, so we decided to change the defense and I saw some progression after that. In the second half, it got better and better. Tonight, we are satisfied after this tough game, and we must continue like this.


We played a good game today; we had a few periods that we lost concentration but in the end we won. We came here with full respect for Porto because what Magnus and FC Porto had been doing the last 4/5 years is amazing for handball.
22:17

RESULT: FC Porto 23:30 Telekom Veszprem HC
A hard-earn victory for Veszprem. Their big defence and cutting out Porto's strongest attack i.e. their line play and centre back axis was key early on. Porto rallied hard late in the second but it always felt like it was too little too late. Veszprem stay joint at the top of that really tough group B. 

Player of the Match: Rodrigo Corrales with 18 saves.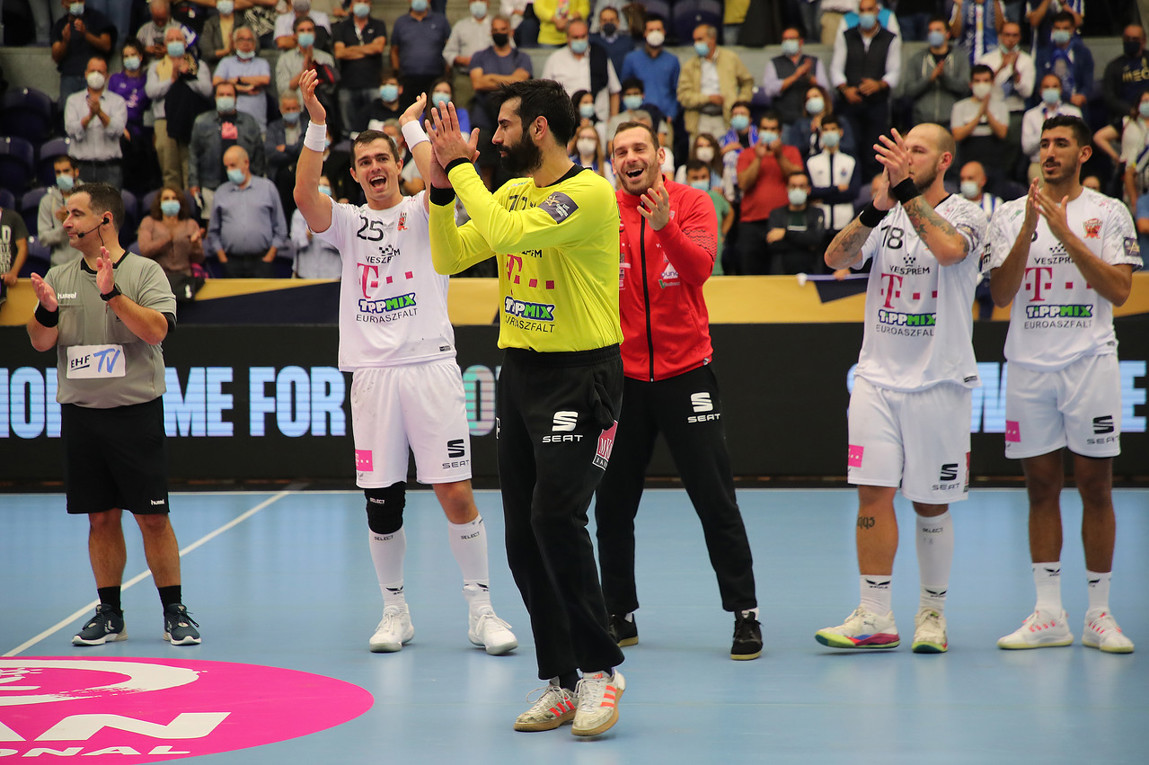 22:13
I have mentioned him already but bravo Rodrigo Corrales! 18 saves and 40% save rate. What a performance! He is a man who pulls off big nights like this over and over again. He is really one of the best at the moment. 
22:10
Yahia Omar showing us that he could be a winger. He was pushed out by a Porto defender and gets up some serious height out on the right wing and rockets it in. Veszprem have restored their six-goal lead. 
22:04
Now it really feels like MOTW. Suddenly Porto are playing like they always should have. Iturriza suddenly looks like his old self scoring three in 5 minutes. They have battled their way right back into this tie after their super slow start to the game.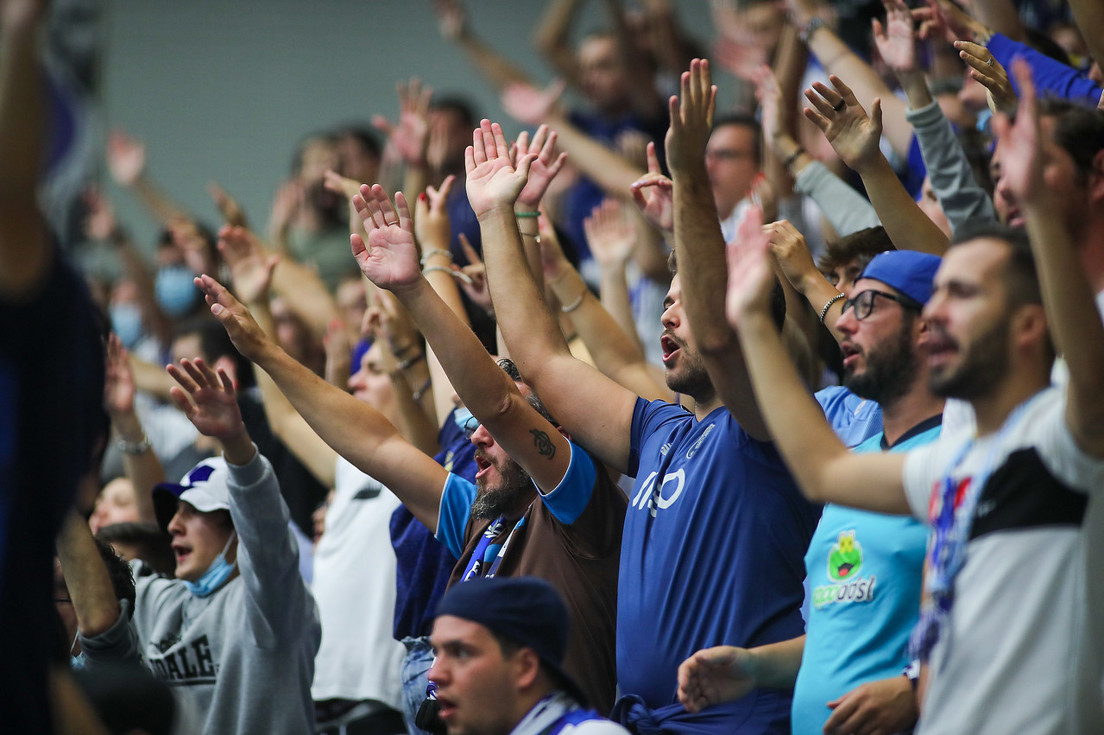 21:57
Time-out Veszprem. What do we have here? Two quick goals by Silva and suddenly we are back to a four-goal game. Hard to believe that we had an eight-goal game just minutes ago. 

During the time-out: "We let them back into the game because we aren't moving, move the ball..." - Momir Ilic (head coach Veszprem) 
21:56
Rodrigo Corrales having a serious outing with 15 saves!
21:45 
As Chris O'Reilly has touched on over on EHFTV this is a defensive masterclass by Veszprem. Sipos has been a great signing for the Hungarian side, he has really added to their block today. Porto are not doing themselves any favors with their nervous hands and dropped balls.
21:38
Nenadic opens up the scoring with a classic Nenadic goal. Fakes the jump shot sends the defence into the air the drops his shoulder and finds himself alone on the line and nets. Veszprem 17:10. 
HALF-TIME: FC Porto 10:16 Telekom Veszprem HC
"Veszprem took the confidence and the impetus from their epic win over Barcelona during the two-week break. With full concentration and focus in defence, an incredibly strong Rodrigo Corrales between the posts (44% saving percentage in the first half) and the cleverness to cause many Porto turnovers; the favourites played their role as expected.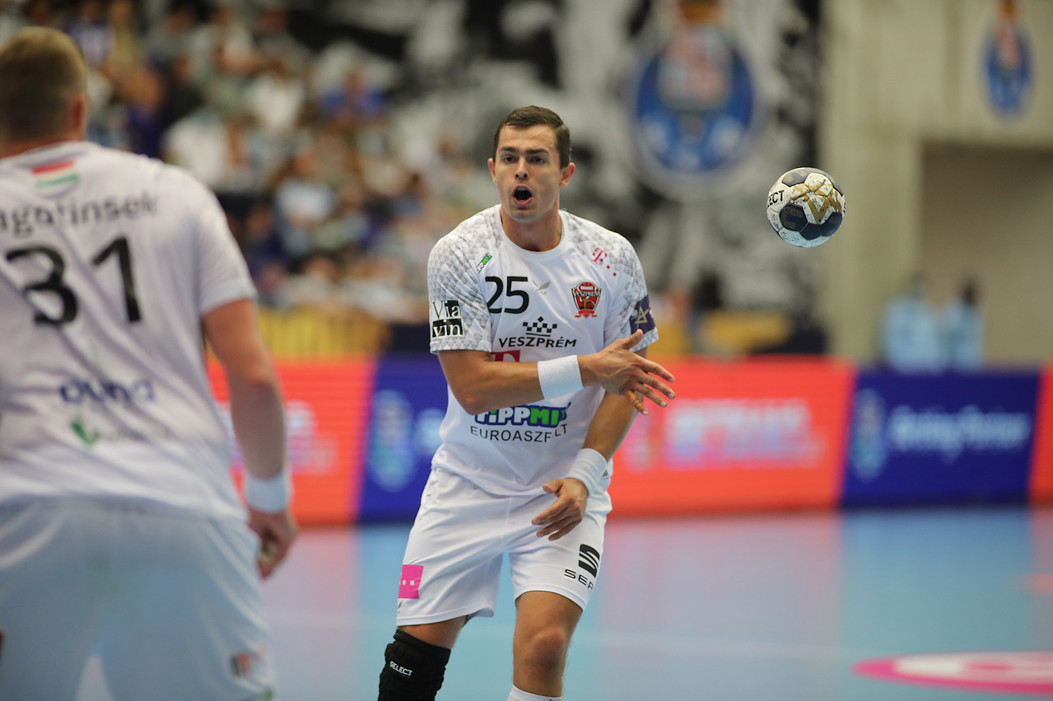 Porto made too many mistakes in the initial stages and then were only chasing the results after going 5:1 down – but not many things changed, as Porto seemed to have lost their faith quite early – while Veszprem were stuck to their match plan precisely. Even Porto's usually sharpest weapon, the 7-against-6, did not work as it was planned – but finally, the hosts had found something like a rhythm, but still could not really endanger Veszprem" - Björn Pazen EHF Champions League journalist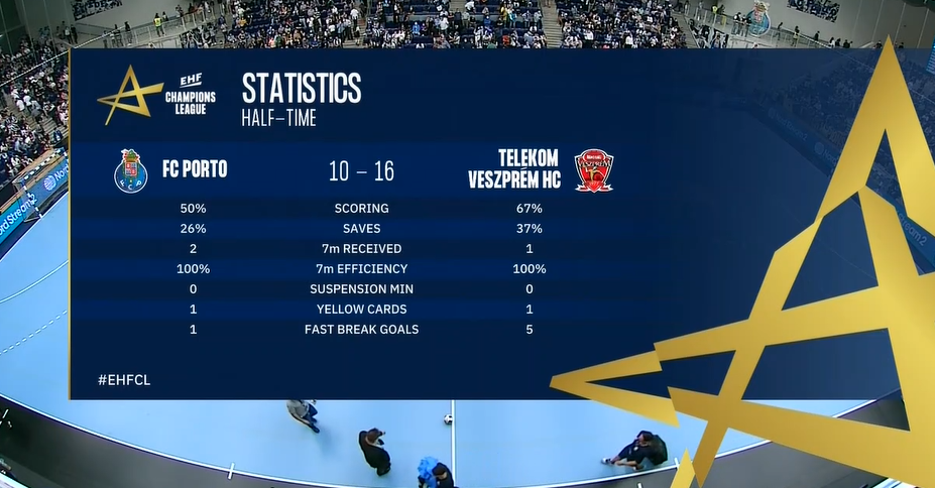 21:18
+5 for Veszprem. It sure doesn't feel like such a big gap with a great crowd packed into the arena. Porto are starting to slowly grow into it and have shaken off those early cobwebs. Areia just netted a nice peno through the legs of Corrales. 
21:02
7 v 6 time for Porto. Veszprem have really shut down Porto so it is time for Andersson's men to switch it up and what better way than one of their biggest strengths. And it looked in the first 5 seconds of the play as they won themselves a penalty. 6:2 to Veszprem. 
20:57
Nine minutes in and Porto need to focus. They are turning the ball over far too easily and are handing Veszprem fastbreaks.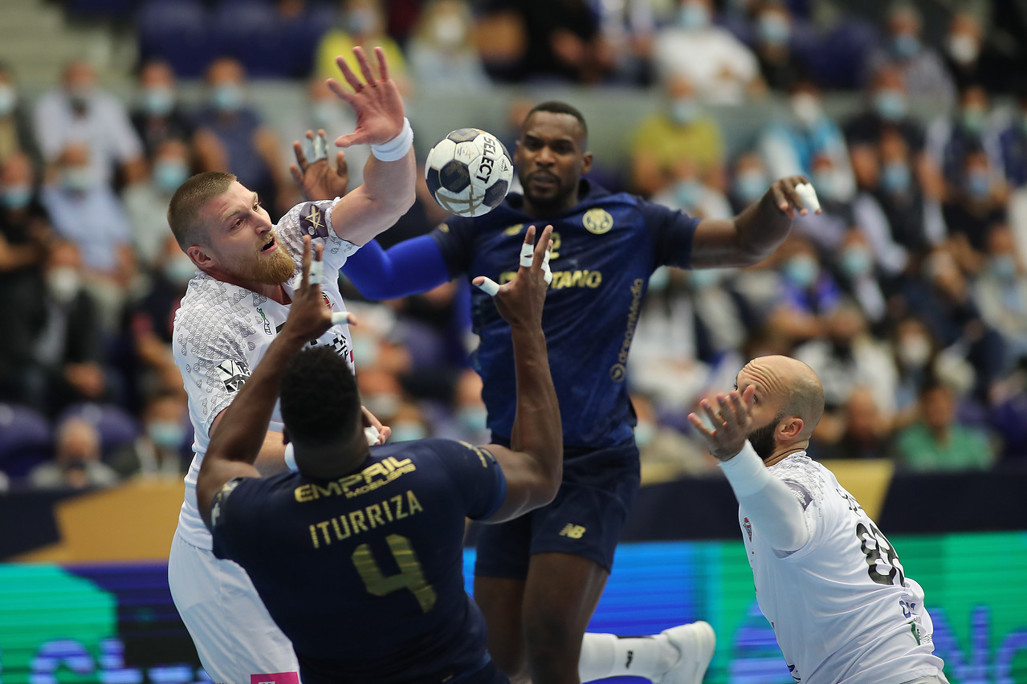 20:54
A frantic opening few minutes. Porto look a bit nervous in attack and look pretty unsettled. For Omar and Nenadic looking lively for Veszprem. The Hungarian side lead 5:1. 

Time-out called by Magnus Andersson of Porto; he will not be happy with how his team has started. 
20:38
Time for MOTW! Let's GO! 

In just 5 minutes we will throw off our highlight of the week of FC Porto vs Telekom Veszprém HC!
Over on EHFTV we have Irishman Chris O'Reilly bringing you live commentary, so don't miss it. 














20:21
Has to be one of the biggest nights in Elverum's history and now after 4 rounds of action the EHF Champions League group phase no clubs are undefeated. What a season we have in store. Just look how close this group is now.
RESULT: Pick Szeged 30:34 Elverum Handball
20:14
What a night in the history of Elverum handball club. Beating Szeged away from home in a season where the Hungarian champions look unbeatable. They are the first team to topple the blue and white of Szeged this season and the group now is so so close! Bravo Elverum. 
It was such a mature team effort. At times it looked like they would blow it but it was - in the end - a tactical masterclass. Big shout out to Grøndahl with his 9 goals and totally dictating the play and to Imsgard in goal with his most important saves. He man between the sticks saved 18 in total. Amazing.   
20:11
Emil Kheri Imsgard 16 saves for Elverum so far. Just amazing. 
20:06
Grøndahl had a bit of luck there, the pressure was on an Mathe ran into the defence and almost lost the ball, but Grøndahl pounced and saw some space and bring Elverum up to 33:28. It feels like it is just Elverum's evening. 
19:53
If you have been waiting for the wheels to fall of this Elverum express... well, you will need to wait a bit more as they seem to be going from strength to strength. A nice 5:1 run has the side from Norway back up to +5. Elverum 27:22 Szeged. 

P.S. The young Grøndahl is in some form today; he is 7/9 and the 20-year-old looks as cold as ice from the penalty spot.
19:22
HALF-TIME: Pick Szeged 15:19 Elverum Handball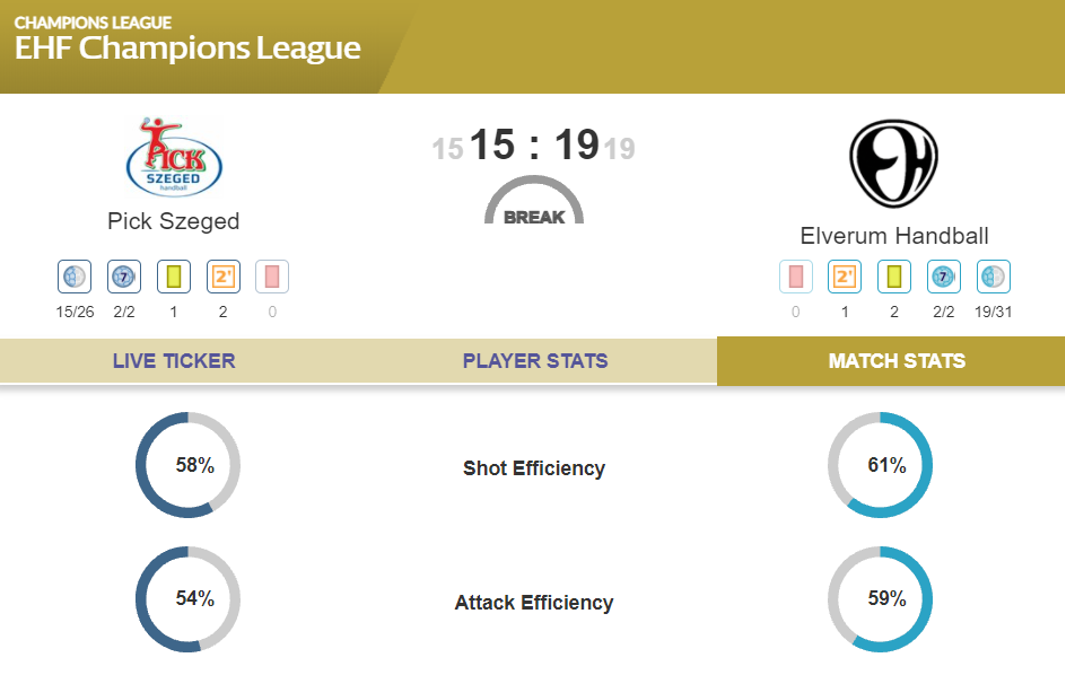 19:20 
Wow! This is some great handball by Elverum. Some of the best I have seen from them this season. We regrouped and tighten up their defence and have gone on a 4:0 run and are not in control of the game again. 19:15 to the vistors. 
19:17
Four missed shots in the row and two "Super Mario" goals by Sostaric and one from Rosta, means we are back level again at 15:15. And it is a time-out for Elverum. 
19:11
Emil Kheri Imsgard in the Elverum goal is proving a pain in the side for Szeged, he just pulled off an amazing save from Frimmel on the Szeged wing. The young Norwegian is on five saves so far (31%)
19:04
Elverum are loving this line play and it is working really well. Tönnesen has to sit out for an over-eager tackle on Solstad. 11:10 to Elverum. 
18:56
A great little bit of play by Mathe for Elverum he drew the whole defence with him and scooped the ball into the line and Banhidi (Szeged) on the line pulled out of Johansson on the Elverum line, and the visitors win the old "1-2" a goal plus a two-minutes suspension. 6:4 to Elverum. 
18:47
Are we are off! Radivojevic opens the scoring for Szeged from the penalty spot, game on!
18:43
We are ready to rock over on EHFTV so join us now for the action! 


18:28
A win tonight for Szeged would mean they lead frog Aalborg and THW Kiel to move to the top of group A with a point to spear. While a win wouldn't move Elverum but they would close the gap to Vardar just above them in 5th in the table. 
18:17
The warm-up is well underway in Hungary for our first game of the evening. A lot of people have been very impressed with Szeged for far this season. They are of course the big favourites heading into this tie, but Elverum are not to be sneezed at; they often pull off be performances when least expected so nothing is for sure here... 




16:44
Before tonight's MOTW Porto vs Veszprém, Face of the Champions League Anja Althaus caught up with Veszprém wing Gasper Marguc and Porto's Ivan Sliskovic as part of the Breakfast for Champions series. 
Check our the full episode here. 
16:30
We are back for more EHF Champions League Men round 4 action, with four games to wrap up the round tonight!
18:45 CEST Pick Szeged vs Elverum Handball
20:45 CEST MOTW FC Porto vs Telekom Veszprém HC 
20:45 CEST Paris Saint-Germain Handball vs HC Motor 
20:45 CEST Barça vs CS Dinamo Bucuresti 
Wednesday 
Kielce seemed to have finally dusted off that loss from round one and have really hit their stride, while Aalborg were tested all the way and showed some real character to get the win; a big plus for them was to see Aron Palmarsson back in action and in the EHF Champions League once again. Vardar will be upset to have lost their unbeaten run but it was against a Montpellier side that are looking really impressive - long gone seems to be the talk of them not having a deep enough squad this season. Zagreb will have to wait for another round before ending their losing curse, but tonight was always going to extra hard against THW at home and the German side looking to make a point after their MOTW loss last round. 

We hope you enjoy our coverage of tonight's action; we are back tomorrow for the highlight of the week when we travel to Portugal for MOTW Porto vs Veszprém where we will have extra on-site and behind-the-scenes coverage on @ehfcl Instagram stories. 

Enjoy the match reviews of tonight's matches and a collection of the best photos just below...



















22:13
RESULT: Lomza Vive Kielce 37:29 SG Flensburg-Handewitt
SG were fighting an up-hill battle before the whistle even sounded with everything they are going through with injuries and fitness levels. And give credit where credit is due: they never stopped fighting and gave it their all. But there was a lack of real belief from the first minute and when a team like this Kielce side smell that they pounce all over it. With the likes of Nahi (6/8) and Moryto (4/4) on the wings punishing every mistake and Szymon Sicko (9 goals) in fine form from left back, there was no stopping the men in yellow tonight. 
It is still surreal to have such crowds in the arenas again and boy did that Kielce crowd add to the buzz tonight!
22:06
Oh dear, it will be an evening to forget for poor Jim Gottfridsson, he hasn't found his flow at all. And that last standing shot that he threw right at Wolff in goal and the expression on his face afterwards just shows you it isn't his evening.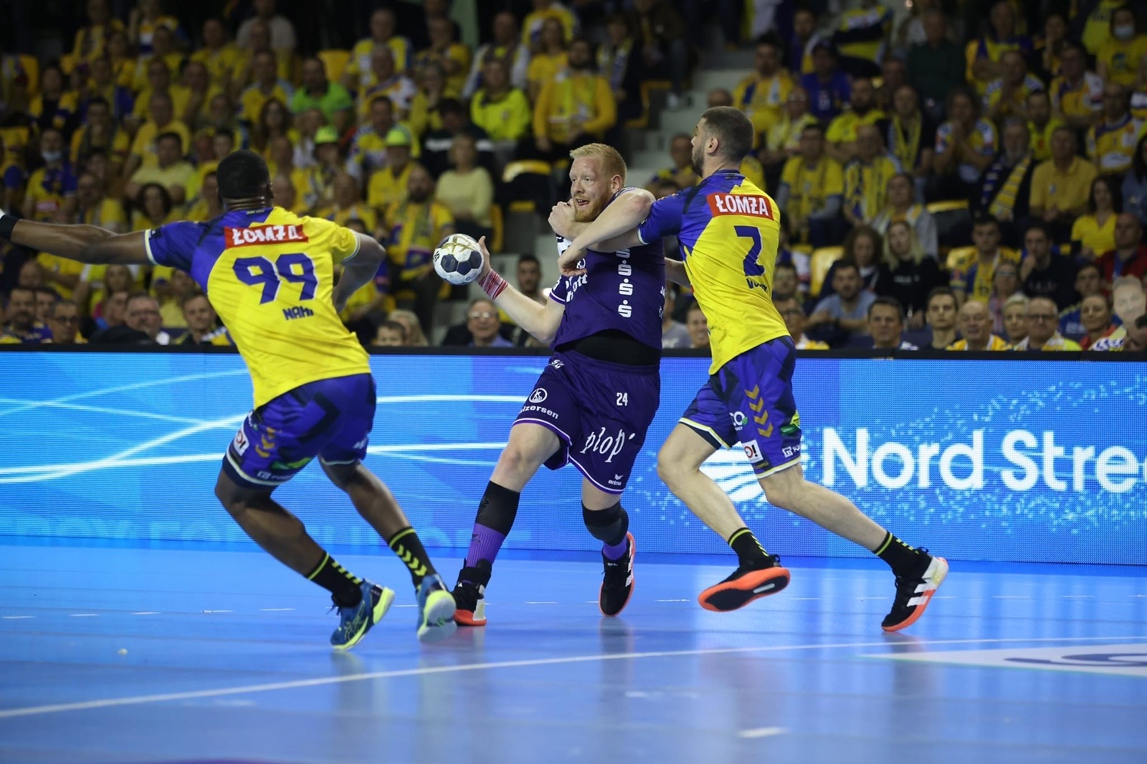 21:56
In our other tie of the evening HC Vardar 1961 vs Montpellier HB we saw a familiar face make his first EHF Champions League appearance of the season: Valentin Porte. The French international was out with a broken finger the last few months, good to see him back in action! 
21:49
Aaron Mensing needs to get a shout-out the Dane is one of the only players really on form tonight for SG. There is often very little build-up for him but he is one powerful package. Just give him the ball. Not the same can be said for the rest of the SG backcourt. Little drive and no creativity. 
21:44 
We are 7 minutes into the second half and a Mateusz Kornecki has the fans on their feet! Listening to that crowd it feels like it will be a long evening for SG. The German side having only netted one in the opening minutes.  
HALF-TIME: Lomza Vive Kielce 21:16 SG Flensburg-Handewitt 
SG hung tough for large parts of that second half but you feel towards the end of the half they looked really outclassed and stretched in defence. They will need some seriously massive performances from their defence and goalkeepers if they are to stand any chance in the second half. Szymon Sicko has been on fire netting seven goals for the Polish side while Aaron Mensing the Dane has been best for SG with 5/6.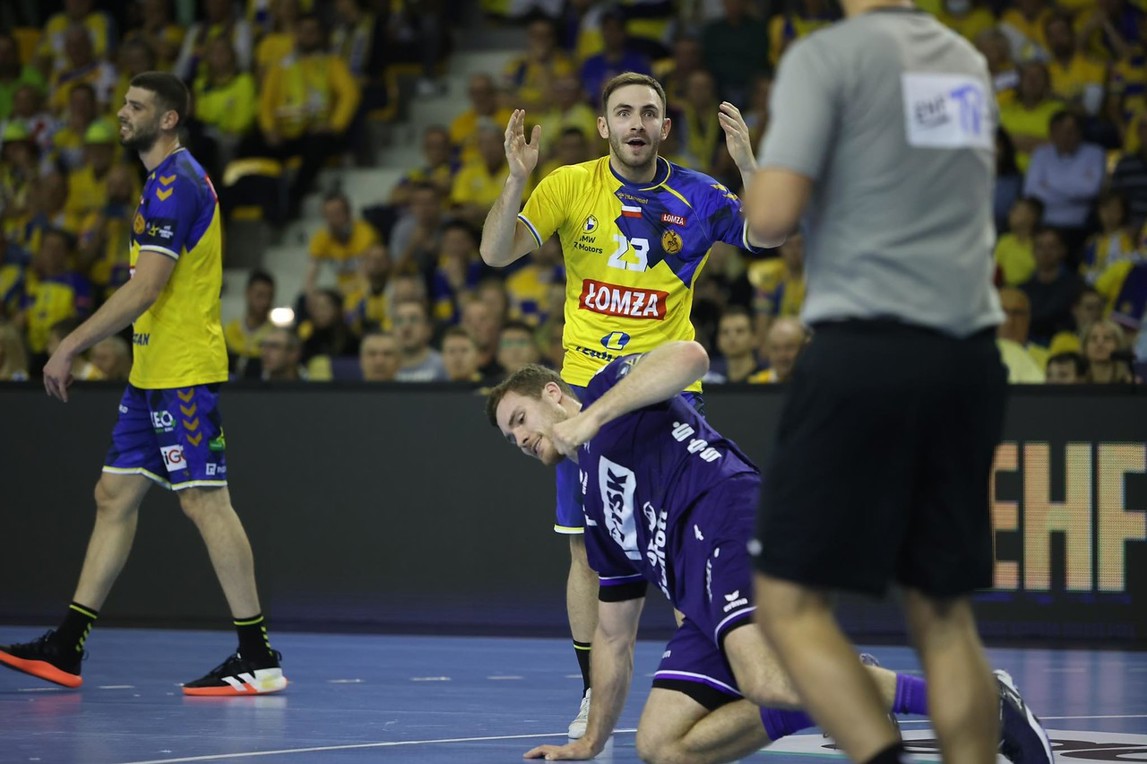 21:11
It has been said a lot already but I will say it again: Dylan Nahi is a serious addition to this Kielce team. You can't help but think that this is the perfect team for him to develop into one of the best wingers in the world, sure isn't he already knocking on that door? He is looking so good tonight and just netted a wondering spinshot to bring Kielce 15:11 up.
21:09
Karol Bielecki is in the house! The former Kielce backcourt shooter and straight up Polish handball legend played for Kielce from 1999 - 2004 and then again from 2012 - 2018.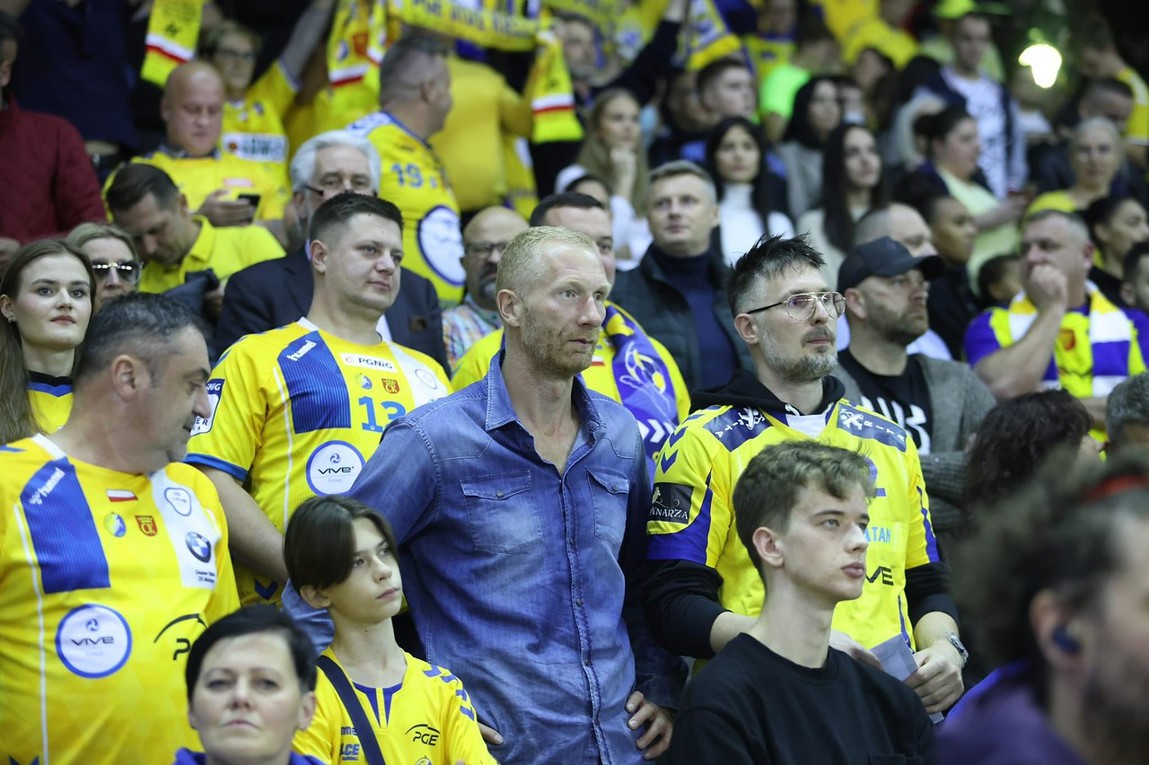 21:06
EHFTV is back up and running so join us now! 
20:57
Kielce are devastating on the fast break tonight. Any mistake by SG and they are all over with Arkadiusz Moryto being on the receiving end of three of these breaks. The Polish international had taken all three of his chances. Kielce 9:5 SG.
20:51
Flensburg's heads seem elsewhere, they have thrown the ball way on a few occasions just handing Kielce fast break goals, Nahi receiving the last gift. Kielce 4:2 SG.
20:46
Interesting. Talent Dujshebaev (head coach Kielce) has opted for Mateusz Kornecki in goal ahead of Wolff. And the Pole saves SG's first effort. 
20:45 
Here we go. Click here to follow the live scores. Once EHFTV is back up and running we will inform you here!
20:29
Flensburg's injury woes continued during the week with their back court player Franz Semper - who just made his comeback - injured his knee once again in the second half of the DHB Cup against HC Erlangen. 
20:26
Two absolute crackers coming up now at 20:45 (CEST)! Unbeaten Vardar host a Montpellier team with a spring in their step having beaten THW in MOTW in the last round. And Kielce will be looking to pick up their third win of the season against an injury-ridden but dogged SG Flensburg-Handewitt side. 

Hard to pick one game to focus on but it has to be Kielce versus Flensburg...
20:14
A bit of a hairy finish but the Danish side got the job done. Stellar second half by Felix Claar of Aalborg who ended up as their top scorer with 8/10. Another man who had a great second half was Frenchman Baptiste Bonnefond who scored all but one of his goals in the second half, he finished 8/10. 
Brest still await their first points of the season while Aalborg now have 6 points to their name and move intermittently to the top of Group A. 
20:09
Disaster! A high tackle by Shumak on Klaar and it's 2 minutes for the big man. With only two minutes left on the clock that could have been Brest's last chance to snatch some points. Time-out Brest!
20:06
The fans were on their feet chanting "Aalborg" when the ball was turned over. A slow build-up by Brest and a jump shot over defender #1 & 2 by Malus and we're back within one!
20:03 
The crowd are really getting into it now and it is looking like Aalborg's night. Their backcourt / line play is really starting to cause the Brest defence trouble. Martin Larsen has just popped up to net his first of the game after some lovely attacking play that carved open the Brest middle block. Aalborg 32:30 Brest.
19:57 
Some daylight finally for Aalborg! They lead 29:27; they briefly led by three. You feel now slowly the Brest defence is starting to tire and gaps on the line are starting to show...
19:48
25:24 to Aalborg but a 2-minute suspension for Jesper Nielsen. A shout-out has to go to Felix Claar (Aalborg) who has sprung to life in the second half having netted five just in this half so far. The Swede really knows out to turn it up!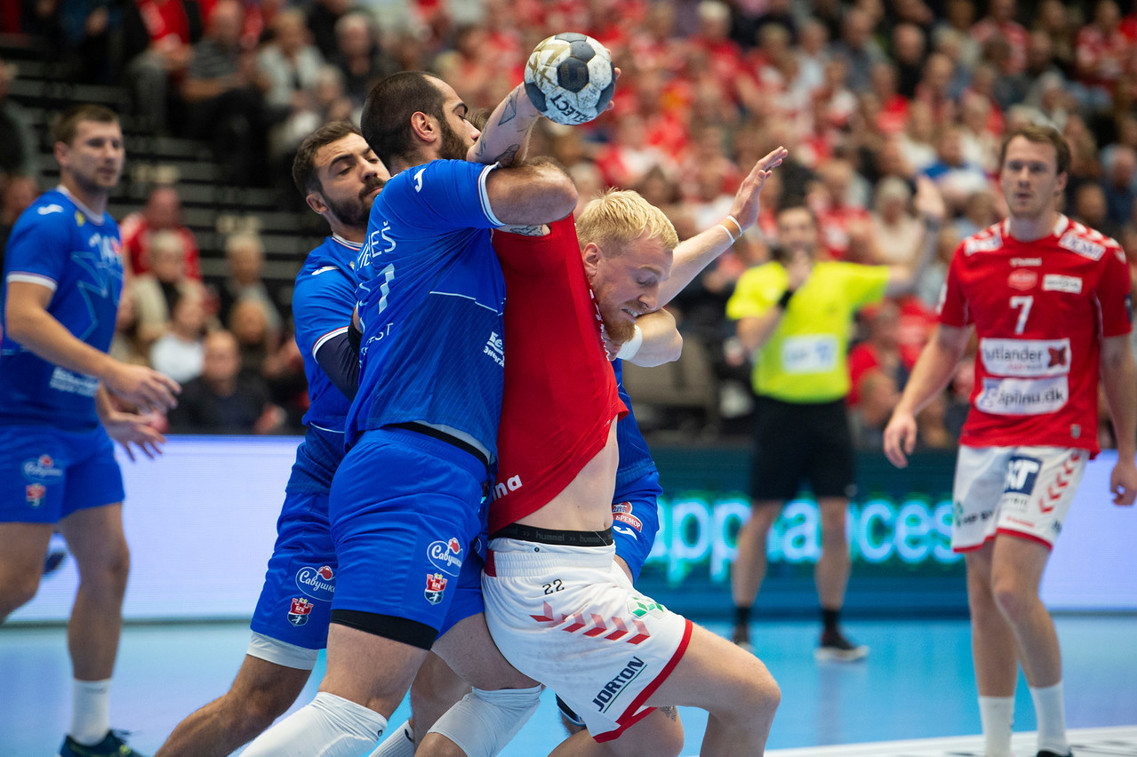 19:24
HALF-TIME: Aalborg Håndbold 18:18 HC Meshkov Brest
Wow! Break-neck stuff from Aalborg and Brest so far. They are all tied up (no surprise). Both sides have seven players on the roster who have hit the net. Vailupau and Yurynok are on four each for Brest while Barthold has netted five for Aalborg.
19:11
The difference a time-out can make. Gotta love handball. Palmarsson, Barthold and Björnsen all net in quick succession and we are back level at 14:14.
19:08
BAAM! Some double trouble from Vailupau of Brest and the visitors are +2, and it is a time-out for Aalborg!
19:02
It looks like we are being set up for one hell of a game here. Teams trading goal for goal. Aron Palmarsson just missed his first attempt and could have put Aalborg ahead by one. He will be needed badly this evening so let's hope the Icelandic international gets his head into the game soon. 11:11.
18:58
Andrei Yurynok is leading the charge for Brest with the Belarusian international scoring three out of four chances in the opening minutes. The visitors are looking very sharp in the opening minutes. It's 8:8. 
18:53
And we off to a flying start between Aalborg and Brest with the teams coming bursting out of the gates. We are level on 4:4 after a frantic opening few minutes.
18:39
Zagreb's last victory in the EHF Champions League dates to February 2020 a 31:30 result against Aalborg. So that means it is 600 days since their last win in the EHF Champions League; can the Croatian record champions finally break that curse today? Well, it doesn't look any easier versus the mighty THW Kiel... throw-off 18:45.  
18:05
Just 40 minutes to the throw-off our first two games of the day. For the first round of matches we will keep the focus on the Aalborg vs Meshkov Brest game. That burning desire of Brest to pick up their first points of the season and Aaborg fresh off their Super Globe, it could ignite some sparks. But don't worry we won't be fully ignoring the Kiel vs Zagreb tie. Stay tuned!
17:00
Just like Kiel in the simultaneous match, Aalborg Håndbold are coming off a defeat in round 3, against HC Vardar 1961. The 2021 finalists, who finished third upon their IHF Super Globe debut in Saudi Arabia last week, are hosting HC Meshkov Brest at 18:45 CEST.
And Brest? After their club record run to the quarter-final last season, they are currently the only team in the group phase without a point yet. That, of course, will change soon - but already tonight? 
16:56
THW Kiel will be eager to bounce back tonight after the 2020 champions suffered a tough defeat at Montpeller HB in our MOTW two weeks ago: 37:30. HC PPD Zagreb, on the other hand, have just earned their first EHF Champions League points since March 2020 (!) with a 27:27 draw against Elverum Handball.
Kiel have won eight of their 16 matches against Zagreb so far, including all three since the last Croatian triumph back in 2015.
16:49
Before we dive into tonight's matches, first in Germany (Kiel) and Denmark (Aalborg) at 18:45 CEST, we want to refresh our memories and look back to what happened so far this season before the one-week break.
Here is an analysis of the first three rounds from EHF journalist Kevin Domas:
16:37
The round 4 fun is evenly spread over two party nights: four matches on Wednesday, four on Thursday. Here is the schedule for tonight:
16:30
Good afternoon! We are sure you missed the EHF Champions League Men just as much as we did last week but no worries, play resumes tonight and we are just over two hours away from throw-off in Kiel and Aalborg for our first two of eight promising matches.
So, welcome to the live blog for round 4!
To get up to date on what is happing tonight and tomorrow, check our preview: