Summary: Record wins for Germany, France highlight round 1
The Women's EHF EURO 2022 Qualifiers take centre stage this week. The matches in round 1 have been played on Wednesday and Thursday, with round 2 coming up over the weekend.
Germany and France book record-breaking victories as all home teams claim wins – except for 2020 semi-finalists Croatia, who are upset by Ukraine.
The EHF EURO Cup 2022 has started with clear wins for Norway and Montenegro.
12 matches in round 1 of the Women's EHF EURO 2022 Qualifiers: eight on Wednesday, four on Thursday
qualifiers, on Wednesday: Romania vs Faroe Islands 26:19 (15:14); Poland vs Lithuania 26:22 (22:12), Hungary vs Portugal 34:24 (17:15), Serbia vs Turkey 36:27 (21:13), Netherlands vs Belarus 38:27 (21:16), Russia vs Switzerland 26:22 (13:7), Spain vs Slovakia 33:28 (17:11), France vs Czech Republic 38:22 (19:12)
qualifiers, on Thursday: Croatia vs Ukraine 22:23 (15:11), Sweden vs Iceland 30:17 (14:5), Denmark vs Austria 27:22 (12:11), Germany vs Greece 36:10 (17:8)
EHF EURO Cup, on Thursday: Norway vs Slovenia 29:17 (14:9), North Macedonia vs Montenegro 21:29 (9:13)
Eric Willemsen reported
22:55
Here ends our coverage of round 1 of the Women's EHF EURO 2022 Qualifiers and the start of the inaugural Women's EHF EURO Cup 2022.
It is still early days but we will soon know more about the situation in each of the six groups, as all 24 teams will take the court again in round 2 this weekend.
So, it is good night for now and, as usual, I leave you with a selection of the best pictures from the night:
22:40
The EHF EURO 2022 qualifiers resume with round 2 over the weekend. One match is played on Saturday, the other 11 all on what will be a very, very busy Sunday. You can find the overview of all matches here on eurohandball.com.
Also, the next two EHF EURO Cup games are also scheduled for Sunday...
22:31
Once again, here is an overview of tonight's qualifier results: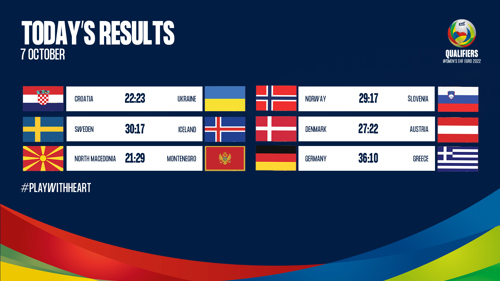 And here are the remaining match reviews of the qualifiers in Denmark and Germany and the EHF EURO Cup game in North Macedonia:

21:47
RESULT | North Macedonia vs Montenegro 21:29 (9:13) [EHF EURO Cup]
Impressive display from Montenegro, who claim a big win away in Skopje. Itana Grbic reaches double figures but could have scored even more than 10.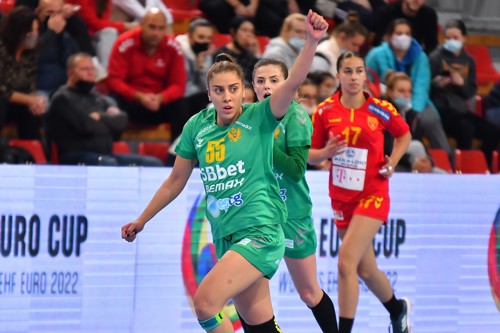 21:36
RESULT | Germany vs Greece 36:10 (17:8)
Poor, poor Greece. Germany match their biggest win in EHF EURO qualifying history. In 2010, they defeated Italy 45:19, also a difference of +26.
Tonight, they concede just 10 goals in the entire match - and that is a new record, bettering their previous best of 11 goals from a qualifier they won 25:11 against Lithuania in 2018.
What a way to close round 1 of the EHF EURO 2022 Qualifiers! 

21:31
RESULT | Denmark vs Austria 27:22 (12:11)
Not Denmark's best match of the year, but they are helped massively by a scoreless period for Austria of more than 10 minutes at the beginning of the second half.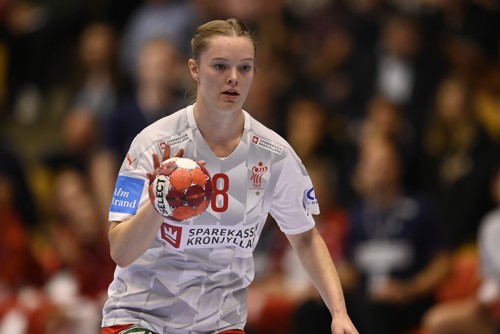 21:24
Here are the match reviews from the games in Croatia, Norway, and Sweden:
21:17
The smallest of gaps in the opponents' defence is enough for Itana Grbic:

21:03
Greece might be well behind in Germany, but don't think you get past goalkeeper Magdalini Kepesidou that easily: 
20:57
Montenegro are off to a strong start in their EHF EURO Cup opener in North Macedonia, leading the hosts by 13:9. Dijana Mugosa and Itana Grbic with four goals each the best shooters so far.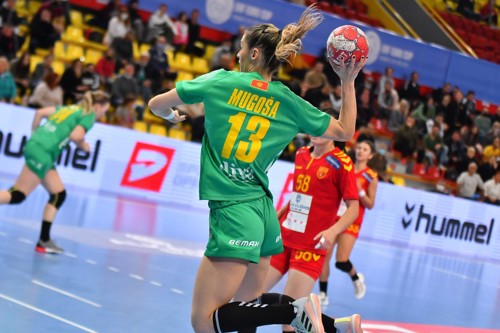 20:51
Germany are avoiding troubles in the last qualifier of round 1, leading Greece 17:8 at the break. Dortmund right back Amelie Berger impresses with seven goals.

20:28
RESULT | Sweden vs Iceland 30:17 (14:5)
What you can do, I can do better.
Sweden better the result from their Scandinavian neighbours Norway as they claim a 30:17 win over Iceland, scoring one goal more. IK Sävehof left back Jamina Roberts the best scorer, with eight goals.
20:24
RESULT | Norway vs Slovenia 29:17 (14:9) [EHF EURO Cup]
Convincing stuff from the reigning champions. They open the first women's edition of the EHF EURO Cup with a 12-goal drubbing of Slovenia. Both teams not in their strongest line-up, but fair to say Norway have the deeper squad of the two. No outstanding scorer as three players end on four goals each.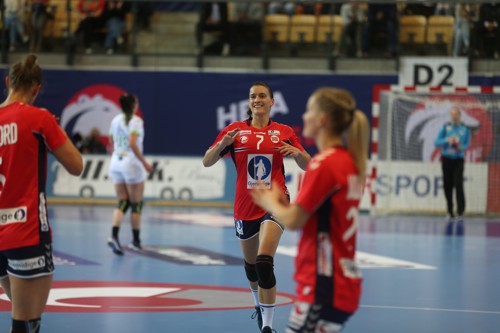 20:01
The last two qualifiers in round 1 are coming your way: Denmark and Austria have just started their match in group 2, while Germany and Greece in group 3 are set for throw-off at 20:15 CEST.
And I say it one more time: It is all live on EHFTV!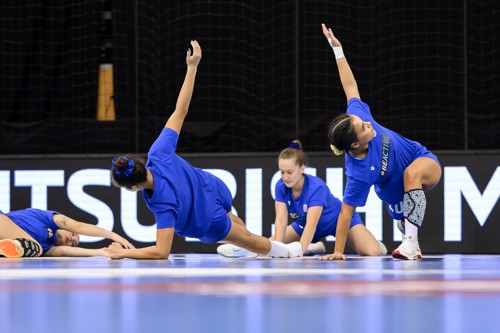 19:47
Happy times for the Scandinavian teams: Sweden also hold a big lead in their qualifier, outscoring Iceland 14:5 in the first half.
19:31
Norway looking fine, despite many big names missing. The EHF EURO 2020 champions hold a comfortable 14:9 lead over Slovenia at half-time of their EHF EURO Cup opener.

19:00
RESULT | Croatia vs Ukraine 22:23 (15:11)
Wow, this is the first real upset in the qualifiers! Ukraine come from four goals down at the break to take both points from the 2020 semi-finalists.
Camila Micijevic scoring eight times - but from no less than 14 attempts. That tells the story of the second half, where Croatia let too many chances slip.
18:55
Serbia won the group 6 opener against Turkey on Wednesday. So Sweden and Iceland will want to get their first two points as well tonight. Can Sweden deliver again, after their strong at the Olympics? Throw-off in five minutes.
18:35
Let's have a quick look at the start of the EHF EURO Cup 2022 in 20 minutes, when Norway and Slovenia throw off in Bekklestua.
Both teams are without some of their biggest names: the likes of Stine Oftedal and Kari Brattset Dale are missing for the hosts, while Ana Gros and Elizabeth Omoregie are among the absentees at the visitors.
It will be interesting to see the current form of the defending and record EHF EURO champions, also with regard to the World Championship, which is only two months away.
18:28
Team timeout Croatia early in the second half. I told you Ukraine were more than capable of getting back into this - and they have done just that, reducing their deficit to just one goal: 15:14.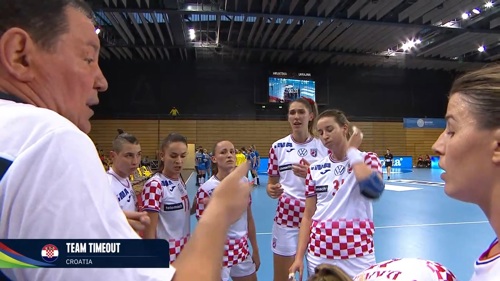 18:09
Moves like these have given Croatia a comfortable lead:
18:06
Croatia head coach Nenad Sostaric will be satisfied from what he has seem from his team so far. They lead 15:11 at the break, but Ukraine have shown they have the potential to get back into this.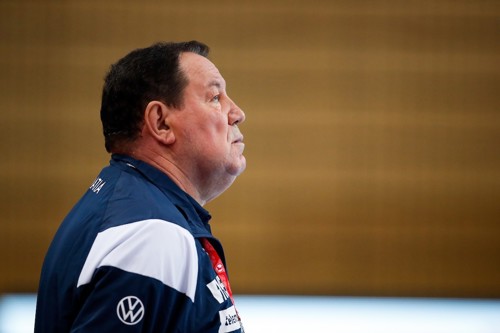 17:55
Team timeout Ukraine. They still trail by three against Croatia (12:9) and feel there is more into it. Irina Glybko their best scorer so far, with three goals.
17:47
The home crowd in Rijeka is happy as Croatia are three up against Ukraine halfway through the first half: 9:6. Paula Posavec and Camila Micijevic with three goals each.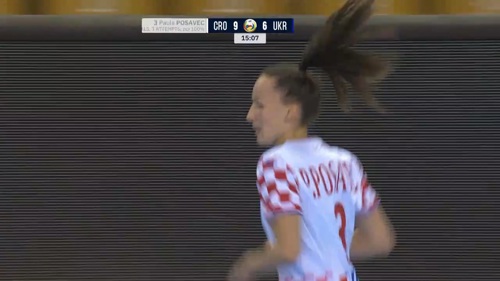 17:25
The teams are on court in Rijeka: Croatia vs Ukraine will start soon. You can watch the game live on EHFTV (though geo-blocking might apply due to regional TV rights).

17:07
As mentioned earlier, tonight will also see the start of the first women's edition of the EHF EURO Cup, a concept that has proved its worth on the men's side since the EHF EURO 2020. The defending champions and the host countries, who are all qualified directly for the final tournament, play their own competition.
EHF journalist Danijela Vekić dived deeper into the two double-headers that await us tonight (Norway vs Slovenia at 18:55 and North Macedonia vs Montenegro at 20:15 CEST) and Sunday, respectively:
16:46
Today's action starts in Croatia, and the whole handball world is looking forward to see everybody's darlings from the EHF EURO 2020 back in action. Their stunning run to the semi-final in Denmark with their positive attitude stole the hearts of so many fans...
... but that was last year. Back to here and now and Croatia are set to host Ukraine at 17:30 CEST. A tough match for them: Croatia won two of their three most recent meeting, including the match at the EHF EURO 2016 in Sweden, but also lost once - by four goals (26:22) in an EHF EURO 2018 Qualifier.
16:11
Among this evening's qualifiers, we will see three high-flying teams face tricky tests at home.
2020's sensational bronze medallists Croatia will take on Ukraine in a must-win match for both, considering how tough their group 4 is - also featuring France and Czech Republic.
The team they beat for bronze, Denmark, look to bounce back from that disappointment against an Austrian side who have been knocking on the door of a final tournament place in recent years.
And Sweden, who impressed with their run to the semi-finals of the Tokyo Olympics, look forward to a Nordic derby against Iceland.
17:30 CEST - Croatia vs Ukraine
19:00 CEST - Sweden vs Iceland
20:00 CEST - Denmark vs Austria
20:15 CEST - Germany vs Greece
15:07
Today marks the beginning of the first Women's EHF EURO Cup, featuring the three host nations of next year's final tournament and reigning champions Norway.
All four teams will be using this as an opportunity to blood new players at international level. But it will be particularly interesting to see North Macedonia in action as they must develop a competitive squad for their home championship next December - their first since 2012.
18:55 CEST - Norway vs Slovenia
20:15 CEST - North Macedonia vs Montenegro
14:50
Hello everyone and welcome back to our running coverage of EHF EURO 2022 Qualifiers.
After a busy start to the campaign last night, we're back with four more qualifiers and a pair of EHF EURO Cup games today. And in case you missed last night's action, we have you covered with more highlights than you can shake a stick at!

Wednesday 6 October
23:20
Our coverage of the first night of the Women's EHF EURO 2022 Qualifiers ends here. The good news is that we are back tomorrow with the four remaining round 1 ties:
17:30 CEST - Croatia vs Ukraine
19:00 CEST - Sweden vs Iceland
20:00 CEST - Denmark vs Austria
20:15 CEST - Germany vs Greece
Also, the first women's edition of the EHF EURO Cup throws off Thursday:
18:55 CEST - Norway vs Slovenia
20:15 CEST - North Macedonia vs Montenegro
For now, I am going to leave you with one of the best goals of the night:
23:15
Read how Spain and France did what six other home teams had done before: winning their first qualifier on the road to Slovenia, North Macedonia, and Montenegro:
22:52
Handball fever in Spain! Just two months before the 2019 silver medallists host the World Championship, they open their EHF EURO Qualifiers campaign with a clear win over Slovakia. Vamos!
And what about France? Handing your opponents their biggest defeat ever, breaking a two-decade-old record, sounds like the perfect start to the qualifiers. Oh-la-la!
Here are the best pics of tonight's last two matches:












22:27
RESULT | France vs Czech Republic 38:22 (19:12)
We close the opening night of EHF EURO 2022 Qualifiers with a record: This 16-goal win for France marks the biggest defeat for Czech Republic in qualifying for a European Championship. Their previous worst result was a 33:20 drubbing at the hands of Hungary two decades ago.
Interesting fact: Despite the 38 goals, no French player scored more five times, and 11 different players scored at least twice for the home team. What a convincing start to the qualifiers for the Olympic champions!
22:16
RESULT | Spain vs Slovakia 33:28 (17:11)
A decent win for Spain, but their second half will give them some food for thought. The hosts squandered a six-goal half-time lead as Slovakia clawed their way back to 23:22 with 13 minutes left on the clock.
In the end, thanks to Lara Gonzalez and Alicia Fernandez each scoring six, Spain keep both points at home with a five-goal win. Still, a strong performance from Slovakia after the break.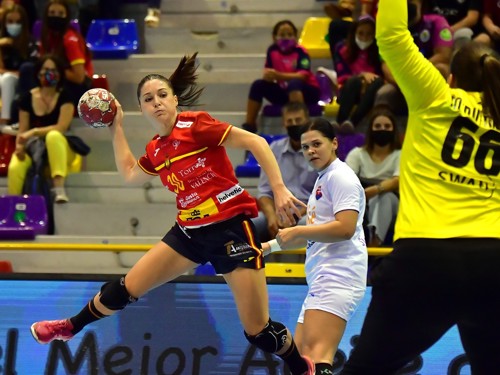 21:43
While Spain and Slovakia as well as France and Czech Republic are in the second half of their respective matches, have a look at the six qualifiers that were played earlier tonight:
21:08
Both Spain and France playing and you don't want to chose between them?
Well, you don't have to. The multiscreen function on EHFTV allows you to watch both games next to each other. Open one match, click on the blue icon on the right side below the video, and drag and drop the second match. Happy watching!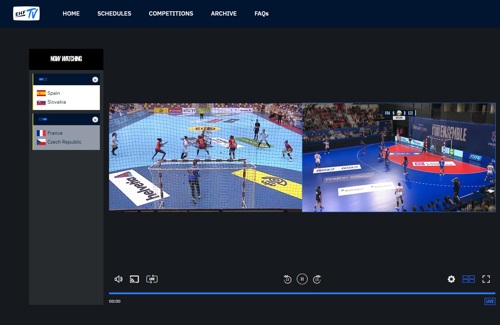 20:58
Get ready for a fitting end to this opening night of the Women's EHF EURO 2022 Qualifiers... we have the freshly crowned Olympic champions France taking on Czech Republic. France are the only team that won a medal at the last three EHF EURO events: bronze, gold, and silver.
Can the Czech visitors cause an upset in Besancon? Find out live on EHFTV right now!
20:40
Earlier today we saw Hungary earn a 10-goal win over Portugal (34:24). Spain are in the same group 5, so they will be eager to follow the Hungarian example and start their campaign with a clear win.
Spain have never lost in four previous matches against Slovakia, getting three wins and a draw.
Watch the game live on EHFTV right now!
20:30
Our next match is 15 minutes away: Spain host Slovakia from 20:45 CEST. Before we turn our attention to the World Championship hosts and their challengers, flip through some of best pictures from the first six qualifiers we have seen tonight:



















20:03
The Dutch have been flying against Belarus tonight:
19:44
RESULT | Russia vs Switzerland 26:22 (13:7)
She has had to do without the likes of Anna Vyakhireva and Darya Dmitrieva, but Lyudmila Bodniyeva starts her stint as head coach of Russia with a decent win. Valeriia Kirdiasheva with six and Elena Mikhaylichenko with five find the net the most times.
But also well done to Switzerland for 'winning' the second half 15:13! They don't get points for that, but maybe self-confidence for their next qualifier, at home against Poland on Sunday.
19:53
Big wins and lots of goals in most matches so far. Still, there has been some excellent work from the goalkeepers as well. Watch this thread:
19:44
RESULT | Poland vs Lithuania 36:22 (22:12)
Poland need just one half to remove any doubts about the outcome of this qualifier. Building on a 10-goal half-time lead, they down Lithuania by 14 in the end. Interesting fact: while no player scores more than five for the winning team, Roberta Strope is the best scorer in this match with seven goals for Lithuania. 
19:37
RESULT | Serbia vs Turkey 36:27 (21:13)
Excellent team effort from Serbia, who get 12 players on the score sheet tonight as they control the match against Turkey from the first half.

19:32
RESULT | Hungary vs Portugal 34:24 (17:15)
It takes Hungary until the second half before they can shrug off the resistance of Portugal. Katrin Klujber on fire for the hosts, scoring nine times from 11 attempts.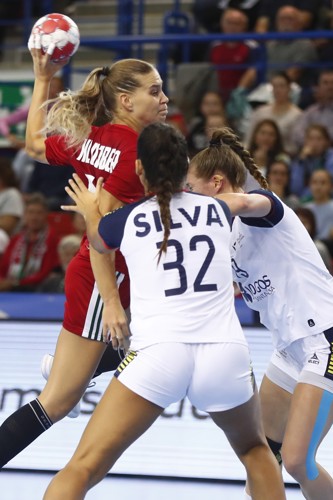 19:23
RESULT | Netherlands vs Belarus 38:27 (21:16)
Solid start into the qualifiers for the Dutch team, who will be defending their world title in two months' time in Spain under new interim head coach Monique Tijsterman. Angela Malestein with eight and Danick Snelder (photo) with seven goals are the home team's best shooters in absence of stars Lois Abbingh and Estavana Polman.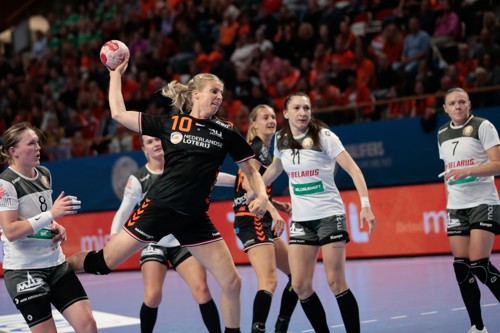 19:19
Russia have conceded just seven goals against Switzerland in the first half: 13:7. Seems new head coach Lyudmila Bodniyeva has put emphasis on a strong defence in her first match in charge of the 2016 Olympic champions and EHF EURO 2018 runners-up:
We lost the match, but we didn't lose our dignity. We lost only by seven goals.
18:55
RESULT | Romania vs Faroe Islands 26:19 (15:14)
No Neagu, no problem! Romania become the first team to win in the Women's EHF EURO 2022 Qualifiers. Crina Pintea steps up and scores nine for the hosts.

18:48
Here are the half-time scores from the matches that started at 18:00 CEST. Like I said earlier, all hosts are looking good so far:
18:40
Wow Van Wetering!
18:29
Still 20 minutes on the clock at today's first match, Romania vs Faroe Islands.
While the favoured hosts hold a slim lead, it is fair to say that Faroe Island are keeping up well with their opponents. Nothing decided, yet!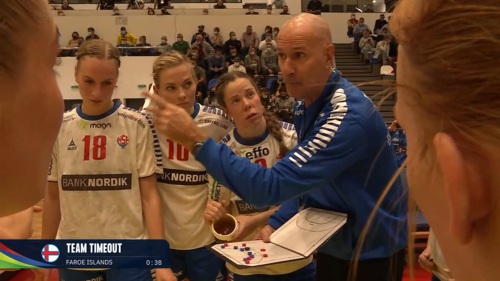 18:14
How big is home advantage in handball? How much impact do fans have on what is happening on the court?
Anyway, in all five qualifiers running at the moment, the hosts are leading.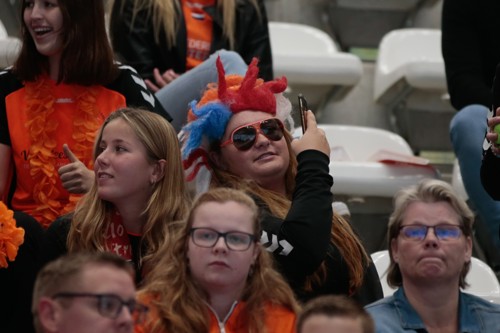 17:55
Serbia and Turkey are among the teams starting their campaign at 18:00 CEST.
Serbia's biggest success at an EHF EURO came on home ground in 2012, when they finished fourth. Turkey, however, have failed to qualify for a major event so far.
Get ready for this and three more games starting in just a few minutes live on EHTV.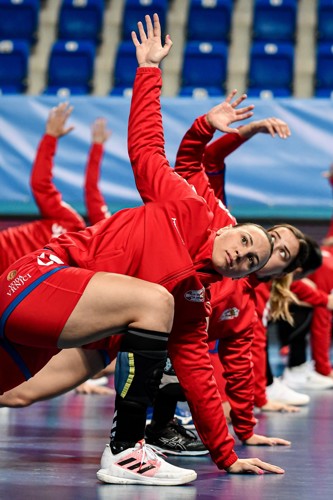 17:37
Portugal are another team that successfully navigated their way through qualification phase 1 some four months ago, clearly beating Luxembourg, Cyprus and Kosovo. Tonight at 18:00 CEST they will face opponents from a different calibre: Hungary in Érd.
EHF journalist Tiago Nogueira caught up with key player Patrícia Lima, who made no secret of her biggest wish with the Portuguese national team:
17:25
Only five more minutes until throw-off of the first game: Romania vs Faroe Islands.
While the visitors were one of the three teams coming through qualification phase 1 last June, the hosts have been regulars at EHF EURO final tournaments. In fact, Romania missed only one edition so far, in 2008.
Can they get off to a good start tonight, even without star player Cristina Neagu?
You can watch this game, like all other games tonight, live on EHTV, though geo-blocking will apply in some regions due to TV rights in that area.
17:15
We have six matches starting within the next 75 minutes, so we will be cherry picking a bit here on the blog, while keeping an eye open for the remaining courts.
16:58
So, where do all the top teams stand, just two months after the Tokyo Olympics and two months before the World Championship in Spain? A panel of EHF journalists across Europe analysed the big teams and has come up with this power ranking (*):
(*) This ranking only includes teams competing in the qualifiers. Just in case you were wondering where Norway are... ;-)
16:52
This is tonight's schedule, in chronological order:
17:30 CEST - Romania vs Faroe Islands
18:00 CEST - Poland vs Lithuania
18:00 CEST - Hungary vs Portugal
18:00 CEST - Serbia vs Turkey
18:00 CEST - Netherlands vs Belarus
18:30 CEST - Russia vs Switzerland
20:45 CEST - Spain vs Slovakia
21:00 CEST - France vs Czech Republic
16:40
Good afternoon and welcome to round 1 of the Women's EHF EURO 2022 Qualifiers!
A busy week of women's national team handball is about to start and this live blog is the right place to stay up-to-date on all that happens on the courts across Europe on Wednesday and Thursday.
EHF journalist Björn Pazen had a look at all 12 matches that are coming our way tonight and tomorrow, and this is his preview: