Summary: Vipers and Esbjerg claim contrasting away wins
As six teams look to move a step closer to the EHF FINAL4 Women 2022 in Budapest in June, the EHF Champions League Women quarter-finals began this weekend with three first leg matches.
on Saturday, Brest Bretagne Handball share spoils with Györi Audi ETO KC, 21:21
on Sunday, reigning champions Vipers Kristiansand took control of their contest with Krim Mercator Ljubljana, winning 32:25
CSM Bucuresti's comeback falls short as Esbjerg win MOTW 26:25
second leg matches take place on 7/8 May
18:18
We'll leave it there for this weekend's live blog, thank you for joining is as we enjoyed the first half of these quarter-final contests. Let's do it all again next weekend!
18:09
Player of the Match Kristine Breistøl has this to say after the contest:
"It was very intense! We knew the game would be very physical and it was like that but we are happy with the result.
"It was amazing for us also, the crowd was really tough and I think they kept CSM always coming back but it was also nice for us as we like to play with a full venue."
17:48
That brings an end to a really interesting weekend of first leg matches. Although none of the three home teams were able to give themselves an advantage to take into next week, two ties, in particular, feel wide open.
Here are some dates and times to put into your diary for next weekend's second leg matches.
Saturday 7 May at 16:00 CEST
Györi Audi ETO KC vs Brest Bretagne Handball (1st leg - 21:21)
Saturday 7 May at 18:00 CEST
Vipers Kristiansand vs Krim Mercator Ljubljana (1st leg - 32:25)
Sunday 8 May at 16:00 CEST
Team Esbjerg vs CSM Bucuresti (1st leg - 26:25)






17:33
Kristine Breistøl picks up the Player of the Match award as she top-scored for Esbjerg today with 7 goals, adding three assists.
17:30 | FULL-TIME - CSM Bucuresti 25:26 Team Esbjerg
Brilliant comeback from CSM, who go from four down to level in the space of four minutes! 
Both sides throw the ball away within the final 20 seconds and Henny Reistad makes the most of the mayhem to feed Vilde Ingstad on the line to score with the final throw of the match and give Esbjerg a hard-fought victory in the first leg. All to play for in this contest as we look forward to the second leg in Denmark!
17:22
This contest just keeps flowing back and forth. Tess Wester comes in for CSM, makes a couple of big saves and suddenly they are back within two goals. Timeout for the home side, who are going to go 7vs6 in attack for the final 5 minutes.
17:20
Crunchtime now in Bucharest and Esbjerg are looking more up for it. Two quick goals from Henny Reistad give her side a 24:20 lead with just 7 minutes left on the clock.
17:13
Elizabeth Omoregie misses a very scorable open goal from her own half in a moment which captures the increasing tension here. Esbjerg responding well to the CSM fightback and Kristine Breistøl fires in her fifth goal of the day to extend their lead to 20:17.
17:05
CSM are back within a single goal, thanks to a Neagu penalty, and Esbjerg look a bit rocked. Such fine margins making the difference so far in this contest and it's exactly what you want to see in a quarter-final. 16:15 to the Danish side after 11 minutes of the second half.
16:57
Cagey start to the second half but the goals are beginning to flow now with the teams trading goals back and forth. Once again, it's Cristina Neagu inspiring the home side with two early goals and Esbjerg's lead is down to 15:13.
16:45
It has been a balanced performance from Esbjerg so far this afternoon. Although their attacking output could have been better, there is little to argue with on their defence and keeping today.
16:36 | HALF-TIME - CSM Bucuresti 9:12 Team Esbjerg
I think this first half will be remembered as one of missed opportunities, particularly for CSM, who scored just 9 of their 22 shots on goal. Esbjerg have been slightly more efficient but far from what they expect from themselves.
The Romanian side have just about managed to stay within reach here and with the players at their disposal, anything is possible in the second half.
16:28
Marie Davidsen has come in and made a big impact between the posts for CSM, making three saves and inspiring her side to drag themselves back into contention. Esbjerg still lead, 11:8, but Jesper Jensen isn't too delighted and takes a timeout.
16:18
It is a one-woman show for the home side so far as Neagu fires in another goal from distance but there is little CSM can do about Esbjerg's big shooting back court as Tranborg and Reistad are running the show and helping their team to a 9:5 lead.
16:09
Cristina Neagu fires in a scorcher from the left back position to keep CSM within touching distance but it's Esbjerg looking the more composed in this opening 10 minutes, leading 5:3.
15:55
It's almost showtime in Bucharest and one of the contests I'm most looking forward to is Neagu vs Reistad. Two proven big-time players from different generations. We may not see them go face-to-face too many more times, so let's enjoy it today!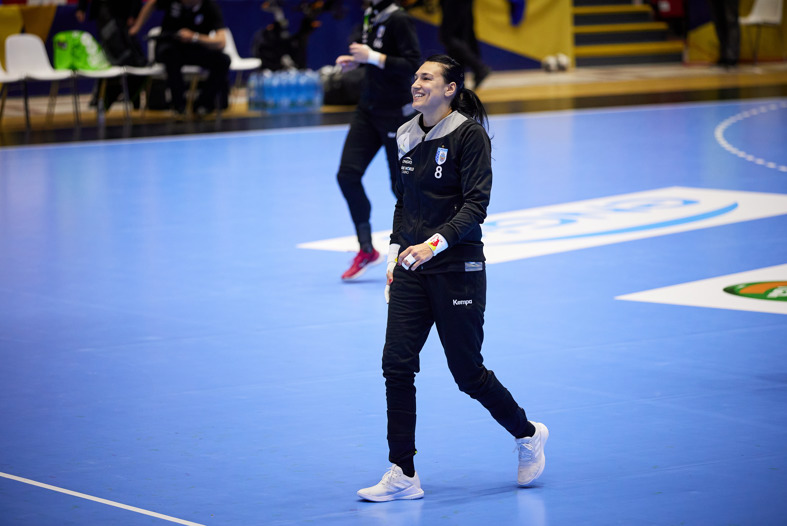 15:45
Now we move on to Match of the Week in Romania as CSM Bucuresti welcome Team Esbjerg. This is a contest which experts have found it so difficult to predict a winner. 
Esbjerg come into the game with their usual light squad, just 12 players to choose from today, but that has rarely bothered Jesper Jensen's team this season.





15:32
Ana Debelic was the unlikely star of the match, producing a rock-solid performance on the line for Vipers tonight with 9 goals from 10 attempts.
On top of that, Vipers' defence and Katrine Lunde in goal (15 saves) deserve a lot of credit for reducing their hosts to just 25 goals.
15:29 | FULL-TIME - Krim Mercator Ljubljana 25:32 Vipers Kristiansand
Vipers turn up the heat at both ends of the court in the final minutes to stamp their authority and put one foot into the EHF FINAL4.
Many of the areas Krim struggled with this season were exposed by a well-organised and efficient Kristiansand performance. This tie is now theirs to lose when they play at home next week.
15:19
Goal number 7 for Gros comes from the penalty line and she is playing her part in damage control. 27:22 to the Norwegian side but there is plenty of time for that to change - six minutes remain.
15:11
We are into the final quarter of this first leg and the onus is very much on Krim to drag themselves back into the contest now. Ana Gros has shifted into the playmaker position and has since delivered two assists but Vipers still very much in control - leading 24:18 with 13 minutes left on the clock.
15:03
Kristiansand are really flowing now. They are not trying to do anything special in attack, merely moving the ball decisively and letting it do the talking. Bella Gulldén is orchestrating the attack very nicely and it shows as Vipers build their lead to 19:12 after 40 minutes.
14:53
Both defences begin strong but Krim soon lapse into a routine which punished them in the first half - a poor decision in attack and a counter-attack goal conceded. Sunniva Naes scores on the break to send Vipers 16:10 ahead.
14:36 | HALF-TIME - Krim 10:14 Vipers
A surprisingly one-sided first half in favour of the reigning champions. After an even opening 10 minutes, Krim's attack has lacked consistency and will need to make the most of this half-time break to set things right, which they are certainly capable of.
Vipers will be fairly happy with every aspect of their game, besides a few too many missed scoring chances, a solid output from the Norwegian side so far.
14:29
The situation is getting out of hand from the home side's perspective. Krim looking a bit lost in attack and Vipers are taking advantage. Moments of magic from the likes of Lekic and Gros have kept Krim in the game so far but that is not sustainable. 13:9 to Vipers.
14:23
Cracks beginning to show in the Krim attack with five turnovers already and Katrine Lunde beginning to read their shots with ease. Ana Gros takes it upon herself to set that straight and fires in her third goal of the afternoon but Vipers lead 10:7 after 20 minutes.
14:15
First timeout of the game taken by Krim as they fall 7:5 down. Markéta Jerábková hasn't enjoyed much luck in front of goal so far, finding the net just once from five attempts but she is staying busy and creating opportunities for her Vipers teammates.
14:11
It has been a nice and open start to this contest with both teams looking quite comfortable in attack, despite the odd mistake. Just as we pass the 10-minute mark, the scores are level at 5:5 and Krim have their keeper Jovana Risovic to thank for that.
14:03
We have this contest underway and the TV cameras are rightly focused on the competing right backs, Ana Gros and Nora Mørk, two of the very best in their position in the world. Ana Gros lives up to the hype immediately with the first shot and first goal of the game, followed by a second by Andrea Lekic before Ana Debelic gets Vipers off the mark.
13:46
Vipers' last European match on 19 February was a huge confidence-boosting win over Györ but it has been a long old wait between top-flight games for the reigning champions and it will be fascinating to see how they settle into this match against a Krim side in top form.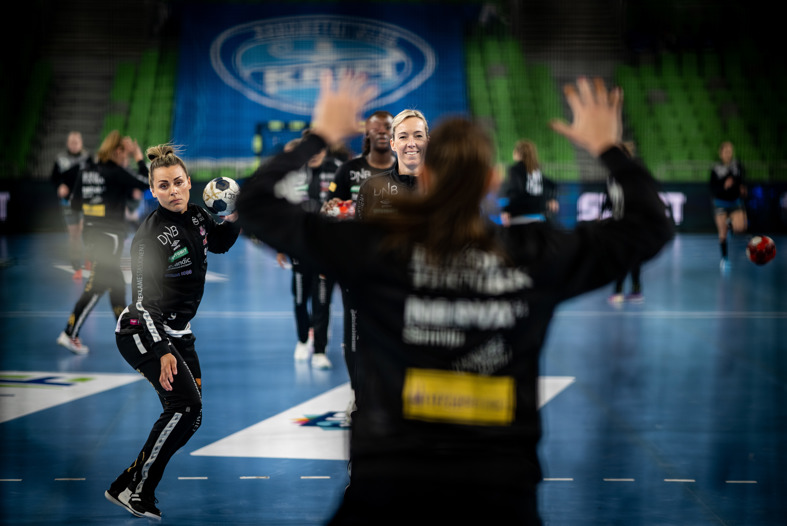 13:32
The upcoming match is probably not the encounter Vipers would have expected when the group phase ended as Krim scraped through to the play-offs and looked unlikely to give FTC much of a problem.
But in came Ana Gros as a mid-season arrival and the Slovenian side's fortunes have been flipped around, suddenly making them look like genuine title contenders.
"The beginning of the season was hard for us. We came so close to winning in a few matches, trailing by one, and that wasn't easy," Krim's young but experienced left back Tjaša Stanko said.
"However, we stayed focused and patient, believing we can achieve more this season. That belief has brought us to the quarter-finals of the EHF Champions League."
Stanko and her team will be full of belief heading into the match today - will it be enough?
Sunday - 13:15
Good afternoon and welcome back to our live blog coverage of this weekend's EHF Champions League Women Quarter-finals.
After last night's thrilling draw, we can hope and expect for more of the same this afternoon. Here is what we have to look forward to!
Krim Mercator Ljubljana vs Vipers Kristiansand (14:00 CEST)
CSM Bucuresti vs Team Esbjerg (16:00 CEST)
20:35
Post-match reaction from both coaches can be found below. As Brest coach Pablo Morel notes, his team are only frustrated with a draw against Györ because they are ambitious. Fortunately, for both sets of players and handball fans around Europe, the second leg will take place in Hungary at 16:00 CEST on Saturday 7 May.
The live blog will return on Sunday afternoon for two more games from the EHF Champions League Women quarter-finals at 13:00 CEST.
Krim Mercator Ljubljana vs Vipers Kristiansand (14:00 CEST)
CSM Bucuresti vs Team Esbjerg (16:00 CEST)
Until then, we will leave you with the final two goals of the first leg between Brest and Györ.
It's a quarter-final, it's very tough and I'm very proud of my team. We wanted to be strong in defence. We have a week to settle the details and I hope we will play an even better game in Györ. To be frustrated to draw against Györ means that we are ambitious.
We know how difficult it is to play here, in this atmosphere, against a very good team full of confidence. The start of the match was not the one we wanted, but we finally found the way. We have to work during the week to find solutions. I expect a difficult second leg – we have to be prepared for that.
20:19
As our coverage for this evening nears its conclusion, the best photos from Brest can be viewed in a gallery below. 













20:09
If you want to read more about the great goalkeeping that was on display during the Brest vs Györ thriller, Sergey Nikolaev's match review is now online.
20:01
This is an extremely difficult question to answer, as all three goalkeepers produced great performances, but "which goalkeeper impressed you the most in the Brest vs Györ first leg?" is this evening's poll question.

19:49
Sandra Toft's total of 15 saves is hugely impressive. Her save penalty from Veronica Kristiansen's effort with just over a minute remaining is arguably more so, especially as the outcome was still in the balance.
19:40
Veronica Kristiansen scored six goals to finish as the top scorer of the match, while Helene Fauske led the scorers for Brest.
It is reasonable to say that most of the praise will be reserved for all three goalkeepers who stepped on court this evening: Sandra Toft, Laura Glauser and Amandine Leynaud. Remarkably, all three finished with save percentages above 40 per cent, with Leynaud leading the way on just under 53 per cent.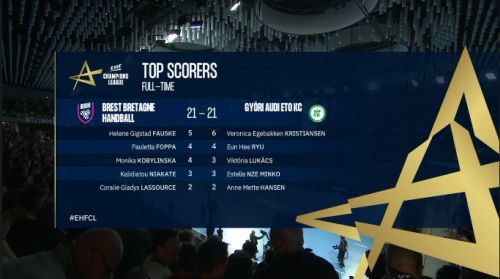 19:36
A truly gripping contest in France ends in the most appropriate result: a draw. Györ will start the second leg as favourites to progress to the EHF FINAL4 Women, but as we saw again this evening, very little will separate these two teams (if anything at all!).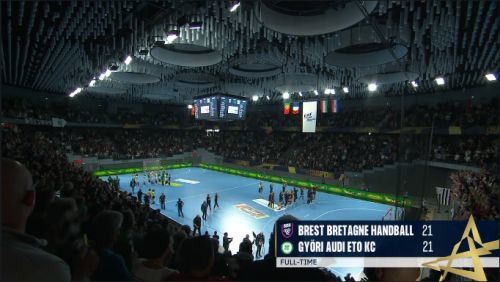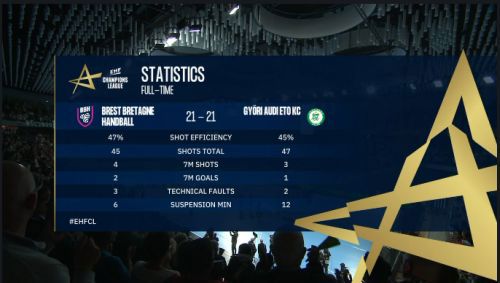 19:26
Anne Mette Hansen seemingly found the right time to make an impact in attack!
Meanwhile, the score is 20:20 as Ambros Martin calls a timeout with two minutes remaining.
19:22
After 52 minutes and 44 seconds, Anne Mette Hansen's second strike gave Györ their first lead of the match. A combination of a suspension for Crina Pintea and goals from Pauletta Foppa and Coralie Lassource, plus a big stop from Sandra Toft, ensure that any joy for the away side is short-lived. 
19:16
With less than 10 minutes remaining, Anne Mette Hansen has levelled the score for Györ at 18:18.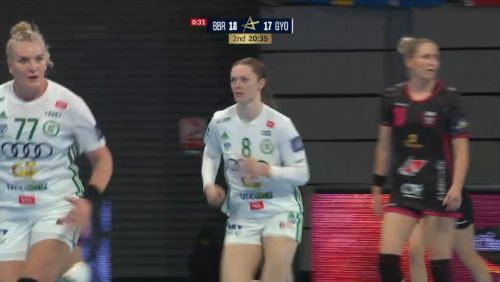 19:13
Officially, Leynaud isn't credited with a save for this interception at the beginning of the second half – but the net effect for Györ is the same as a save: she stopped a Brest attack. Both of Györ's French goalkeepers have performed well this evening against the French champions.
19:07
It is noticeable that the Györ are trying to increase the tempo in attack. The Hungarian side have cut the deficit to one goal on three occasions in the second half, but they haven't been able to find an equaliser. 
18:54
Interestingly, Amandine Leynaud has started the second half in goal for Györ. Leynaud saved the first shot that she faced from Kalidiatou Niakate, but couldn't stop Monika Kobylinska's breakthrough effort. Kobylinska is currently the top scorer of the match, with four goals. 
18:51
As we noted in our half-time update, Brest missed two penalties in the first half – or should that be Laura Glauser stopped two Brest penalties in the first half? 
Either way, the performances of Toft and Glauser may well go a long way to deciding the outcome of this first leg. It will be interesting to see if both goalkeepers can maintain their high save percentages throughout the second half.
18:48
Pauletta Foppa is often dynamic at both ends of the court for Brest, but here is an example of her finding a way to fight off the attention of Györ's defence. 
18:43
HALF-TIME UPDATE: Brest Bretagne Handball 11:8 Györi Audi ETO KC
The first half wasn't a high-scoring affair, as both defences were largely on top, but it was a gripping 30 minutes of handball. As you would expect given the number of goals scored in the first half, Sandra Toft (50 per cent) and Laura Glauser (45 per cent) have finished the first half with high save percentages. 
Györ reduced the gap from five goals to three goals in the last five minutes of the half – and they might be happy that Brest only lead 11:8 at the break. Will Brest rue two missed penalties later on the game? We'll find out in the second half!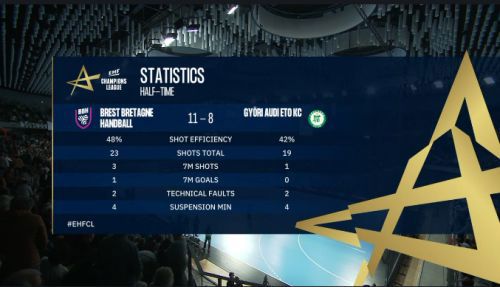 18:29
Brest have applied significant pressure to Györ's attack throughout the opening 25 minutes. Reducing the time and space that players such as Stine Oftedal have had the opportunity to use is a key reason why they lead 10:6 as half-time approaches.
18:20
While Sandra Toft has enjoyed a good opening quarter in the Brest goal, her team showed their intent in attack inside the opening minute when Coralie Lassource finished this move from the left wing.
18:17
With just over 15 minutes played, Brest have the first four-goal lead of the game, 8:4, while Györ have not yet led in the match. Sandra Toft has already made four saves from eight shots faced, which might be an ominous sign for Györ. 
18:01
We are about to get underway in Brest. Here are the line-ups for both teams from EHFTV.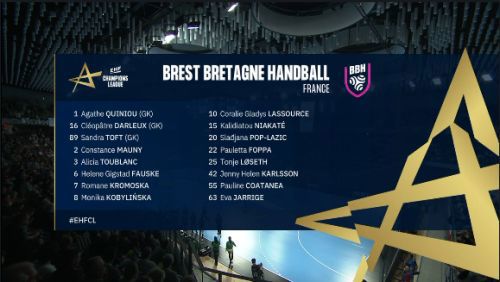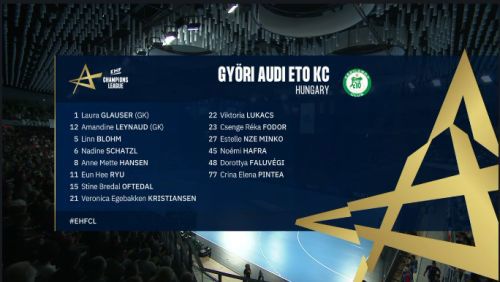 17:55
A few minutes ago, the EHFTV coverage put the spotlight on Helene Fauske and Anne Mette Hansen as key players for their respective sides. Fauske is Brest's top scorer this season, while Anne Mette Hansen is on course to finish this season with her highest total in the EHF Champions League.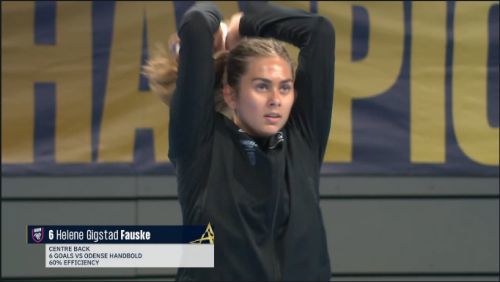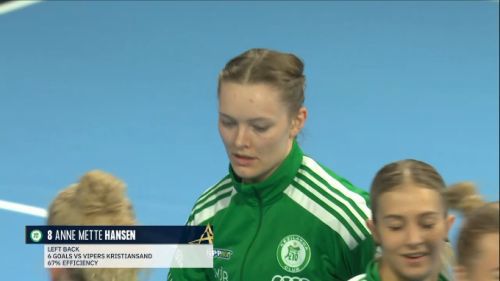 17:36
Earlier in the week, Kevin Domas' feature interview with Kalidiatou Niakaté was published on eurohandball.com.
It is not too late to read the interview before the match begins at 18:00 CEST, but this will be Niakaté's last home match for Brest in the EHF Champions League before she moves to CSM Bucuresti in the summer. 
17:27
As the EHF Champions League Twitter account covered earlier, Brest and Györ met three times last season. Both of the group phase games ended in draws, but Brest emerged victorious in the semi-final after a penalty shootout. 
In the 2019/20 season, Györ won 29:28 at Brest and the match in Hungary finished 27:27. You have to go back to the 2017/18 season to find a clear victory for either side. On 18 November 2017, Györ enjoyed a 26:17 victory over the French side.
17:10
Good afternoon and welcome to Saturday's coverage from the first leg of the EHF Champions League Women quarter-finals.
Whilst Brest Bretagne vs Györ is the only match on today's schedule, it is a clash that fully deserves our full attention as the quarter-finals commence. In their last five meetings, one goal is the biggest margin that has separated the two teams at the end of 60 minutes.
If you have not done so already, check out the preview for this weekend's three quarter-final matches.